The Lincoln Railers placed four players in double figures for the first time this season en route to a convincing, and sometimes dominating, performance on Tuesday night with a 70-46 win over Bloomington at MacArthur High School in Decatur. The Railers improve to 16-15 and advance to Friday night's regional championship contest. Their opponent will be decided Wednesday night, when MacArthur and Eisenhower will battle.

It didn't take long for the Railers to impose their will on the Purple Raiders, who were forced to use their first timeout down 7-0. Baskets in the lane from Jordan Gesner and Max Cook, followed by a 3-pointer from the top of the key by Christian Van Hook, gave early notice that the Railers were ready.

Bloomington (3-26) was able to get on the board with a bucket from Jamal McDavis. The junior scored a career high of 34 the night before, but Tuesday night would be different, much different.

"Coming in, we wanted to contain 3 (McDavis) and 20 (Mardis)," coach Neil Alexander said.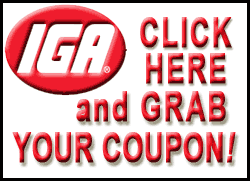 Well, the defense certainly marked that off the things-to-do list, holding them to six points each.
An alley-oop dunk and fadeaway baseline jumper from Van Hook ignited a 15-0 run by Lincoln to burst out to a 22-2 lead early in the second quarter. The run also included a drive and basket down the lane from Cook. It was a common occurrence on the night as the sophomore was in full control when he had the basketball and could seemingly do anything he wanted.
"In the game (Monday) night, we saw some things where we thought the middle would be open," Alexander said after the win. "They (Bloomington) put a lot of pressure on the wings, so we thought we could get some opportunities. I thought Max played very well tonight."
It was, if not his best, one of the best games of his career, including hitting a game- and career-high 20 points.
Bloomington tried to stay close, but every Purple Raider score was answered by more than one Railer score. Up 25-8, Lincoln outscored Bloomington, their former main rival from the Big 12 days, 14-3, which included back-to-back 3s from Gesner and Gavin Block. The 39-11 halftime advantage was easily their largest lead of the season at the break, and the 26-point second quarter was the high water mark of the season. Van Hook and Cook had already jumped into double figures with 13 and 11 respectively.
Now, give Bloomington credit. Having only three wins and now down 28, it would have been understandable if coach Mosley's squad packed up and headed north on Route 51. But there was no quit in the second half, which, coupled with an understandable letdown by Lincoln, allowed Bloomington to try to climb closer, preventing a major blowout.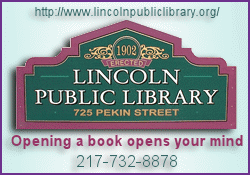 With Austin Kirby scoring Lincoln's first points on his only 3 of the night, the Railers pushed the lead to 42-13. The Railers took their biggest lead of the night on a play that epitomized the play of Cook. After a steal, the sophomore missed a layup but was able to eventually grab the rebound in the midst of all five Purple Raiders. While they stood and watched, it was Cook doing what was necessary, putting Lincoln up 50-18.
Up 32, the Railers fell into some bad habits. After only a couple of turnovers in the first half, Lincoln started turning the ball over more than was acceptable. Passes being stolen in the backcourt, unable to get the ball in on the inbounds and other simply careless mistakes gave Bloomington cause to believe there was a chance, slim as it may have been.
After complimenting his team on their first half, coach Alexander noted the second half was not being well received on the bench.
"In the second half, I thought we were soft. We stood around, didn't do the little things," Alexander said. "You've got to be mentally prepared to play no matter what the score."
Bloomington used Lincoln's assistance to go on a 17-4 run to put the lead to 54-35, but that was as close as they would get on Tuesday night.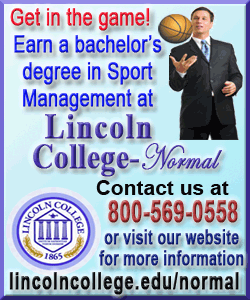 Gesner finished with 11, and the quartet of 10-point-plus scorers was completed thanks to the big fourth quarter from Will Podbelsek. Despite not advancing in the 3-point contest earlier in the evening, the junior saved the important shots for the fourth quarter, scoring eight of his 10 points in the final eight minutes. When Podbelsek hit the second of two free throws, the Railers had reached their season high for points with 61, with more of the game still left.
Jake Olson added a free throw, which helped Lincoln hit the 70-point mark and finish off the 24-point win.
Before Tuesday night, Lincoln had reached 50-plus points only six times. The key last night? "They allowed us to do a lot on offense and we got some quick scores," Alexander said. "They let us run our sets and we took advantage of that."
As mentioned earlier, Cook led with a career high of 20 points, with Van Hook adding 19. Gesner finished with 11 and Podbelsek tallied 10. Block hit two 3-pointers for his six, Kirby had a 3-pointer, and Olson added a free throw.
Now the Railers will await one of the Decatur schools. The matchup will be back at MacArthur High School on Friday night at 7:30. A win would send the Railers to sectional play next week back at Roy S. Anderson Gymnasium. A huge turnout from the Railer Nation would be great to see and certainly appreciated.
If you're heading over, make sure to get there early to root on Lincoln's lone representative in the 3-point contest. Joey Olden advanced to Friday night by making 10. Other Railers who shot but did not make the top four to move on were Podbelsek (8), Olson (6) and Tyler Horchem (5).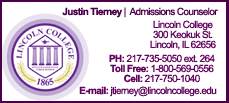 Other scores from games included in the Lincoln Sectional saw two of the No. 1 seeds eliminated. The scores, with their regional seed, from Tuesday:
At Kankakee:
(4) Pontiac 55, (1) Morris 44

(2) Streator 62, (3) Kankakee 59
At Rantoul:
(4) Centennial 79, (1) Rantoul 66
At Springfield:
(1) Lanphier 78, (5) Springfield 66
___
LINCOLN (70)
Cook 8 4-5 20, Van Hook 8 2-3 19, Gesner 5 0-0 11, Podbelsek 3 2-2 10, Block 2 0-0 6, Kirby 1 0-0 3, Olson 0 1-2 1, Bowlby 0 0-0 0, Hays 0 0-0 0, Harris 0 0-0 0, Eimer 0 0-0 0, Heidbreder 0 0-0 0. Team 27 9-12 70. 3-point field goals 7 (Podbelsek 2, Block 2, Van Hook, Kirby, Gesner).
BLOOMINGTON (46)
Sims 13, Romani 8, Donnelly 6, McDavis 6, Mardis 6, Rose 5, Beasley 2. Team 14 12-15 46. 3-point field goals 6 (Donnelly 2, Mardis 2, Rose, Romani)
Scoring by quarters:
LCHS 13-26-15-16 70
Bloomington 2- 9-17-18 46
[By JEFF BENJAMIN]
Jeff Benjamin's Railer basketball articles