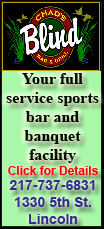 And who could blame them?

After all they had watched as a 10-point Cats lead late in the first half slowly and quite hideously dissolved in front of their eyes because of a 9-points-in-19-minutes dry spell.

And with less than two minutes remaining, the Illini, boosted by a large group of orange-clad fans, looked pretty comfortable with its 9-point lead.

But in a contest that never really made any sense it only figured that this one would come down to one final desperate shot.

It got to that point thanks to consecutive 3-pointers by Northwestern's Alex Marcotullio and John Shurna to close the gap, and a layup by Drew Crawford with 15 seconds remaining that erased it altogether.

If Jack Buck still were around he would not have believed what he was seeing -- and he wouldn't have been alone.

With just six seconds left, Illinois' Myke Henry went to the line to shoot a pair of free throws. He made the first but missed the second and Crawford grabbed the rebound and headed downcourt for the potential game-winner.
Unfortunately for him, waiting at the other end was 7-foot-1 center Meyers Leonard, who swatted away the shot and all hopes of a miraculous Northwestern comeback as Illinois hung on for a 57-56 victory.
"Any win in the Big Ten is a good win, and it being a road win and to find a way to win a close game is great," Illinois coach Bruce Weber said. "The whole game we talked about playing with emotion, playing with a motor.
"We had a great finish to the first half, which allowed us to stay in the game, and then a great start of the second half -- we haven't been good at either one of those things."
They sure were Wednesday, and Leonard's last-second swat was the capper on a feel-good night for the Illini (13-3, 2-1), who snapped a four-game road slide in conference play.
"Coach Weber took me off the line; he probably knew they were going to go in transition, just go to the bucket -- so that was a good move on his part," Leonard said. "This time I kind of read it, knew (Crawford) was going to put it up, and got the block."
"It's a tough loss," Crawford said, "especially after making that sort of a comeback at the end of the game."
Shurna carried Northwestern (11-4, 1-2) in the first half with 17 points but was shut out in the second until hitting a 3 in the final minutes.
"I challenged our guys to cover Shurna in the second half," Weber said. "We did a great job."
"They played us pretty hard in the second half," Shurna admitted. "But I just missed
[Associated Press, MIKE SPELLMAN]
Copyright 2012 The Associated Press. All rights reserved. This material may not be published, broadcast, rewritten or redistributed.