Mount Pulaski Rotary, Land of Lincoln Honor Flight, blood drives, Humane Society, Logan County Democrats and LCHS workshop for FAFSA make Close Up
By Mike Fak

Send a link to a friend


[January 06, 2012] Mike Maniscalco, executive director of the Lincoln & Logan County Development Partnership, will meet with the Mount Pulaski Rotary Club on Thursday, Jan. 5, at noon at Buff's Family Restaurant in Mount Pulaski. He will be speaking about the potential for healthy development in Mount Pulaski. Guests are welcome to attend this luncheon. Call 217-796-3519 for more information.
---

The Land of Lincoln Honor Flight directors thank the individuals, businesses and organizations that helped make it possible to fly 414 World War II veterans to Washington, D.C., in 2011 to see their memorial. Monetary and in-kind donations, volunteered time, media coverage and the service provided by guardians made these flights possible.
All members and the general public are invited to the annual meeting of Land of Lincoln Honor Flight, which will be at 1 p.m. Saturday, Jan. 21, at the Lakeside Christian Church, 225 Toronto Road in Springfield. The board of directors, a financial report, a synopsis of the 2011 flights and a proposed schedule for 2012 will be presented. Fundraising items (pins, shirts, lap quilts), applications, membership information and displays will be available.
The board's goal is to take all veterans who enlisted by Dec. 31, 1946, to Washington, D.C., to see their memorial. Any such veteran who has not submitted an application may contact Ray Wiedle for an application or may go to www.landoflincolnhonorflight.org. Family members and friends are encouraged to notify WWII veterans. After WWII veterans are honored, Korean veterans will be offered a flight. Applications are also being accepted from Korean veterans.
If you have questions, need an application or wish to obtain a Land of Lincoln Honor Flight membership -- 2012 annual, $10; lifetime, $50; honorary WWII veteran membership, no charge -- please call Ray Wiedle, chairman, at 217-622-1473 or 314-427-2317.
---

Blood drives: To help ensure an adequate blood supply for our region, the Central Illinois Community Blood Center is offering opportunities to donate blood in Lincoln in January:
Monday, Jan. 9 -- Lincoln Masonic Center, 2022 N. Kickapoo; noon-6 p.m.

Thursday, Jan. 12 -- Abraham Lincoln Memorial Hospital, 200 Stahlhut Drive; 11 a.m.-4 p.m.
For your convenience, please call toll-free, 1-866-GIVE-BLD, ext. 118, to sign up, or schedule an appointment online at www.cicbc.org. Walk-ins are also welcome and truly appreciated.
---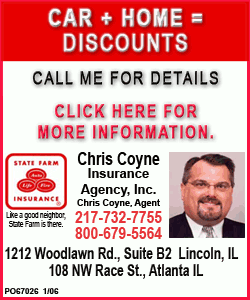 ---

The Humane Society of Logan County is hosting a pancake breakfast on Saturday, Jan. 14, at Friendship Manor. The times are 8 a.m. to noon.
Contact Marsha Brown, 217-735-2108, to purchase tickets or help sell tickets. Tickets are $7 for adults and $3 for children 4-10.
---

The Logan County Democrats will meet on Saturday, Jan. 14, at 10 a.m. at the Owl's Roost Coffee Bar, 427 Pulaski St. in Lincoln. All Logan County Democrats are welcome to attend.
The deadline for the Democrats' Super Bowl raffle for a Vizio 42-inch high-definition TV will end with the drawing for the TV or $500 cash during this meeting. Raffle tickets are still available from county precinct captains. For more information, call 217-796-3519.
---

Lincoln Community High School will host a FAFSA Completion Workshop at the school's computer lab on Wednesday, Jan. 18, from 10 a.m. to 2 p.m. The Free Application for Federal Student Aid is an electronic application that all college-bound students must submit in order to obtain financial aid. A financial aid professional will be on hand to help students and parents complete the FAFSA and answer all questions about financial aid.
Parents may attend the workshop at their convenience or call the counseling office at LCHS, 217-732-4131, ext. 235, to make an appointment. All college-bound students and their parents are welcome and invited to attend.