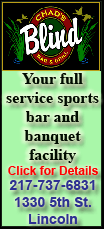 The American Federation of State, County and Municipal Employees is angry that Quinn aides have been meeting quietly with a handful of legislators to discuss closing facilities for people with mental disabilities and illnesses.

The Illinois League of Advocates for the Developmentally Disabled also complained about the meetings.

Quinn tried to close several facilities last year but was rebuffed by lawmakers. Now he is working on a new proposal, which his office says will be announced soon. The Democratic governor says closing outdated facilities will save money and improve care.

Another group, Equip for Equality, supports the way Quinn is planning the closures.

Copyright 2012 The Associated Press. All rights reserved. This material may not be published, broadcast, rewritten or redistributed.