Flu facts
From the Logan County Department of Public Health

Send a link to a friend
[January 18, 2012] Most respiratory bugs come and go within a few days, with no lasting effects. However, some cause serious health problems. Although symptoms of colds and flu can be similar, the two are different.
Colds are usually distinguished by a stuffy or runny nose and sneezing. Other symptoms include coughing, a scratchy throat and watery eyes. No vaccine against colds exists because they can be caused by many types of viruses. Colds come on gradually and often spread through contact with mucus.

Flu comes on suddenly, is more serious and lasts longer than colds. The good news is that yearly vaccination can help protect you from getting the flu. Flu season in the United States generally runs from November to April.

Flu symptoms include fever, headache, chills, dry cough, body aches, fatigue and general misery. Like colds, flu can cause a stuffy or runny nose, sneezing, and watery eyes. Young children may also experience nausea and vomiting with flu.

The hours for vaccines at the health department are Monday through Friday, 7:30 a.m. until 4 p.m. No appointment is required. The influenza vaccine will also be available on the HOPE Mobile during its regularly scheduled stops.

The cost of the seasonal flu shot is $30 for adults, $16.75 for children 6 months through 18 years of age who have no health insurance or health insurance that doesn't cover vaccines, and free to those with a Medicaid or Medicare card.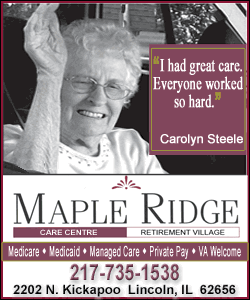 For more information on the seasonal influenza vaccine, call the Logan County Department of Public Health at 217-735-2317.
For more information, visit www.flu.gov and www.lcdph.org.
[Text from file received from the Logan County Department of Public Health]