The total preliminary deer harvest of 181,411 compares with a total harvest of 182,270 in 2010-11. For 2011-12, hunters took 49.2 percent does and 50.8 percent males. Illinois' record deer harvest occurred in the 2005-06 season, when 201,209 deer were taken. For a historical perspective in 10-year increments, the total Illinois deer harvest was 22,570 in 1981-82, 101,418 in 1991-92 and 152,768 in 2001-02.

"Hunters experienced harvests this year that were almost identical to last year," said Paul Shelton, manager of the IDNR forest wildlife program. "Slight declines in the archery and firearm seasons were virtually offset by increases in the youth, muzzleloader and late winter/special CWD seasons. Deer populations in many parts of the state have been brought down to levels that are more in keeping with population goals, and in the coming months biologists will be studying available data to determine changes to implement for the 2012-13 seasons."

During the just-concluded 2011-12 archery deer season, hunters in Illinois took a preliminary total of 61,852 deer from Oct. 1 to Jan. 15, compared with the archery deer harvest of 63,570 in the 2010-11 season.

The combined preliminary harvest total for both the late-winter antlerless-only and the special CWD deer seasons was 14,931, compared with a harvest of 14,884 deer taken during those seasons last year. The just-concluded seven-day split seasons for the late-winter and CWD hunts were Dec. 29-Jan.1 and Jan. 13-15. Hunters in Boone, DeKalb, Grundy, Jo Daviess, La Salle, McHenry, Ogle, Stephenson and Winnebago counties and Kane County west of Illinois Route 47 participated in the CWD season, while another 66 counties were open for the late-winter season. The special CWD season is used to assist in controlling the spread of chronic wasting disease in the Illinois deer herd, while the late-winter season provides additional harvest opportunities as a deer population management tool.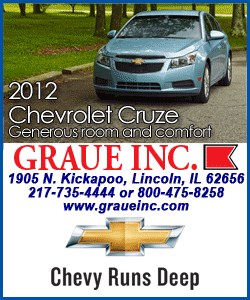 Hunters took a preliminary total of 97,886 deer during the firearm deer season, Nov. 18-20 and Dec. 1-4; 4,886 deer during the muzzleloader-only deer season, Dec. 9-11; and 1,856 deer during the youth deer season, Oct. 8-9.
For a complete list of deer harvest results by county, visit http://www.dnr.illinois.gov/news/
Documents/deersummaryjan2012.pdf.
[Text from news release from Illinois Government News Network]