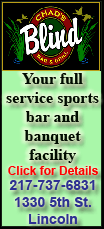 Let's hope it is a memorable game for more than just that reason. Friday night's battle with Glenwood is one we would like to soon forget.
Looking at times more like "Friday Night SmackDown" than a high school basketball game, the homestanding Titans outshot and outmuscled the Railers en route to a 59-37 Central State Eight win. The victory moves Glenwood to 3-0 in the tournament, while Lincoln fell to 2-1 for the week.

Now the fans in attendance can tell you a lot of things that went on that did not get called, and that certainly went both ways. They also saw each team score in the other's basket in a short span, one being one of those you see on highlight reels. Depending on which fandom you ask, it was either a rough and tough game or one where not much was being called and it eventually took its toll.
Both teams came out shooting well, making their first two shots each. Glenwood connected on two 3s, one each from TJ Gates and Peyton Allen, while the Railers answered with shots from Christian Van Hook and a 3 from Jordan Gesner to make the score 6-5 in favor of Glenwood.
The Titans scored again, but Van Hook answered with two more of his 11 first-quarter points. Five more from Glenwood extended the lead to 13-7, but a 7-0 run Lincoln including a jumper from Van Hook, a backdoor layup from Max Cook on a nice bounce pass from Gavin Block, and a 3 from Van Hook gave the Railers their only lead of the evening at 14-13.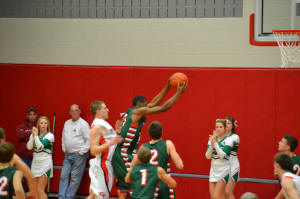 The lead was very short-lived as Glenwood hit yet another 3 to go back up 16-14. Van Hook ended a wonderful first quarter by tying the contest, but -- you guessed it -- another 3 from the Titans gave them the lead 19-16 at the end of an exciting first quarter.
Both teams shot extremely well in the first, with the Railers hitting 7 of 11 shots, while Glenwood missed only three of their 10 shots and made a blistering 5 of 6 from 3-point range.

In the second quarter, Gesner hit his second 3 of the night to pull Lincoln to within one at 22-21. Then, things started going bad. With Van Hook on the bench with two fouls for a good portion of the quarter, Glenwood was able to clamp down on the Lincoln offense. The good shooting from the first quarter was replaced by 2-of-9 shooting.
With about 40 seconds remaining and down 25-21, Gesner had the ball stolen from him near the timeline. As Glenwood pitched it ahead, going for a layup, Genser was whistled for an intentional foul when he attempted to block the shot of Daniel Helm, but, in the opinion of the official, was too blatant and physical with the foul. After Helm made one of the two free throws, Glenwood got the ball back at 26-21. Tough Lincoln defense prevented the Titans from getting a good look in the waning moments of the half, and the Railers went to the locker room down just five.

The first half was filled with physical basketball. Both teams were allowed to get away with a lot of pushing, shoving, hand-checking, and, if you looked real close, some of the Lincoln players found themselves in headlocks while trying to establish position on both ends of the court.
No matter what the fans thought of the officiating, Lincoln coach Neil Alexander knows you have to play through it. "I thought we were soft," Alexander said after the game. "They (officials) weren't calling anything, so you have to adjust and we didn't." Yep, it was chippy and then some.

When Glenwood connected on a 3 to start the third, the Railers answered back as Austin Kirby hit his only shot of the night from behind the line. On this night, though, it was too much Glenwood firepower from the outside. Two more 3s and another score accounted for an 8-0 run, quickly pushing Glenwood's lead to 13 at 37-24. From Gesner's 3 in the second, the Titans were on a 15-3 run and there was no stopping them. After a Block basket made it 37-26, strange things started happening.

On a scramble for a loose ball heading out of bounds, Chatham's Nick Fuchs got to the ball just before it reached the sidelines. As his momentum was taking him out of bounds, he flipped the ball back inbounds toward the Lincoln basket. I'm sure he didn't plan for it to go off the backboard and into the Lincoln basket. Now, since he was clearly behind the 3-point line, there was some confusion about how the play should be scored. The basket, which was credited to the nearest Railer, Will Podbelsek, was first posted as a 3, but later changed to a two. Prior to inbounding the ball in front of our broadcast position, the officials informed us it was not a 3 because it was not an attempted shot and therefore, by rule, could not be a 3-pointer. Maybe this was the break the Railers (9-11, 4-5) needed to catch the No. 10 team in the state.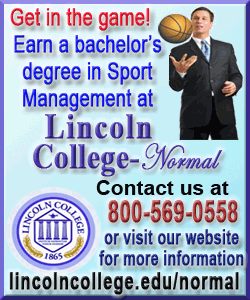 No, not the way things were going for the Railers on this night. After another 3 put Glenwood up 40-28, the favor was returned. After a Lincoln miss, the Titans rushed the ball upcourt. As Glenwood threw a pass downcourt, trying to find an open teammate for a layup, the ball was tipped by Van Hook, went off his fingertips and into Glenwood's basket. By the end of the third quarter, another hot shooting period for Glenwood (6 of 8) put the Titans up 45-31.

The fourth quarter felt like more of the same, with Glenwood making shots (5 of 9) while Lincoln couldn't buy a basket, going 1 for 8. Their only make came on a Dane Eimer layup in the final seconds.
It was one of those games when the opponent pushed and the Railers just didn't push back. Believe me, there was certainly a lot of pushing going on in the contest.
The one Railer who seemed to relish the physical play was Kirby. Much of the second half saw Kirby and Fuchs battling at the high post on Glenwood's offensive end, with the Lincoln senior trying to deny position and the ball from Fuchs. After a couple of foul calls, Fuchs could be seen laughing directly in the face of Kirby, who refused to back down, and other Railer players.
I'll say this: There is a way to win while displaying class and of course, there is the opposite. I'll chalk Fuchs' behavior easily in the latter.

This game did not come down to calls from the officials; it came down to Glenwood being more physical in a very physical contest and hitting their shots, finishing the night 12 of 23 from 3-point range, while Lincoln shot 17 times from behind the arc, making only five. Glenwood also dominated the boards by a margin of 35 to 18.

The Railers were led by Van Hook's 13 points, all in the first half. Gesner finished with nine, while Podbelsek added five. Cook and Kirby each had three, with Block and Eimer scoring two.
There are two games on tap for Saturday. The first is scheduled to tip at 11:30 as the Railers look for revenge from an earlier loss to Rochester. A win would get the Railers back to .500 in the conference. Later that evening, Lincoln will have their one nonconference battle as they square off with Highland at 6:30. Even with the poor showing on Friday night, the Railers still have a chance to finish at 4-1 for the week. Of course, there is also the possibility that, after winning 17 in a row at Meijer, they could leave Saturday night on a three-game losing streak.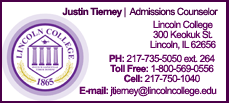 ___
LINCOLN (37)

Van Hook 6 0-0 13, Gesner 2 3-3 9, Podbelsek 2 0-0 5, Cook 1 1-2 3, Kirby 1 0-0 3, Block 1 0-0 2, Eimer 1 0-2 2, Olson 0 0-0 0, Hays 0 0-0 0, Heidbreder 0 0-0 0, Bowlby 0 0-0 0. Team 14 4-7 37. 3-point field goals 5 (Gesner 2, Podbelsek, Van Hook, Kirby).

Glenwood (59)

Allen 13, McAdams 10, Esperum 8, Thurston 7, Fuchs 6, Gates 6, Helm 5, Sharp 4. Team 20 7-16 59. 3-point field goals 12 (Allen 4, Esperum 2, McAdams 2, Gates 2, Fuchs, Thurston).

Scoring by quarters:
Lincoln 16-5-10- 6 37
Glenwood 19-7-19-14 59
[By JEFF BENJAMIN; pictures by DANIEL HEMENWAY]
Jeff Benjamin's Railer basketball articles