No one should ever ask for your Medicare number on the phone if they call you; you should only give your Medicare number to someone on the phone if you call them, and it is someone that you know and trust (your doctor, your Social Worker/case worker, etc.).
Equipment companies that work with Medicare are not allowed to make cold calls, so if someone calls you offering diabetic supplies or medical equipment, they are already breaking Medicare's rules.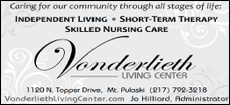 Home health companies should not be making cold calls or door-to-door visits, either. In one of the reports we received this week, a Medicare beneficiary was contacted by a "Senior Resource Center," who collected her Medicare number and sent a home health company to her home. These companies often end up billing Medicare fraudulently for thousands of dollars in services or supplies that they did not provide, and the beneficiary is then unable to access those services or supplies later when they actually need them.
If anyone has given their Medicare number away to a company that contacted them on the phone, please contact the Illinois SMP program at AgeOptions right away: (800)699-9043. If anyone receives calls like this in the future, remember – just say no.
Erin Weir, MSW, LSW, Illinois Healthcare Consumer Protection Coordinator