Local community, local economy: Watch, wait and pray for rain
Send a link to a friend
[July 02, 2012] As the drought intensifies in Logan County to D2 (severe) to D4 (exceptional), a quick poll of the elevators brought corn predictions ranging from dire to moderate. One major elevator operator in the area gave stern warnings that they likely won't be here next year.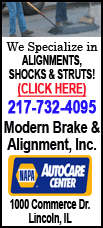 John Fulton, U of I Extension adviser to Logan, Menard and Sangamon counties, said it all depends on what rain we get in near time. He said that ear size had already been determined at planting time by the lack of moisture in the ground from a warm, dry winter, and smaller ears might lead to kernel abortion. No matter what rain we get from here on out, production is going to be lower because ear size is smaller. Fulton said that rain and cooler weather are what the doctor ordered.

Corn is tasseling right now and needs rain to pollinate. The daily forecasts through Friday show 10-20 percent chances of rain, predicting nothing more than scattered showers. Tuesday currently shows a 40 percent chance of showers. Daily re-forecasts seem to lower the expectation of rain.

Ground moisture is so low in some areas that some corn plants are already dying in strips where poorer soil types and drainage has left the ground without any moisture at all.

Stressed corn plants are cannibalizing moisture in lower leaves as well as ears of corn just to stay alive.
Aerial spray operators remain busy applying pesticides to crops that might perish in the end. Crop insurance policies dictate that the producer must continue to treat the crop as though it is going to survive and produce until it is damaged, destroyed or dead.
Allen Shew of Chestervale elevator seemed a little more optimistic.
"There is going to be a crop," he said. "Some areas will produce better than others, and overall we might see production from zero to 150 bushels per acre."
Unfortunately, there is little chance that corn production is going to be in the 160- to 200-bushel range that producers hope for.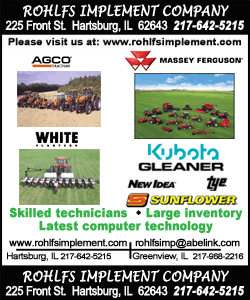 Both Shew and Fulton said that if this was 10 years ago, the corn would have already died. Newer drought-resistant hybrids resist the heat and tolerate the drought.
The drought in the central region will likely push the price of corn up, which will compensate for lower harvest rates. Ethanol producers are already scaling back or shutting down production because of higher corn prices.
The only thing producers can do right now is watch, wait and pray. No rain will likely mean no grain!
[By JIM YOUNGQUIST]
Update: After this article was submitted, slight rain did fall over Logan County on Saturday evening. However, it was widely scattered and mostly insignificant. Amounts varied, with most of the area receiving up to 0.1 inch and isolated pockets of 0.01 inch west of Lincoln up to 0.75 inch in the Lake Fork area. See precipitation map, choosing two-day cycle:
http://www.srh.noaa.gov/ridge2/RFC_Precip/
index.php?site=ilx&lat=40&lon=-89&zoom=4
Currently, there is a slight chance of scattered storms later today and another chance on Thursday. However, high temperatures continue to be forecast through next Sunday.