Park district notes
From Roy Logan, program coordinator

Send a link to a friend
[July 07, 2012] The first viaduct street art project was done on the South Kickapoo Street on June 29 and 30. The Lincoln Park District, the city of Lincoln and Chris Tice all partnered to bring an idea to reality. I urge everyone to drive by and see this. It was so appreciated by the neighborhood, and it is just an awesome scene. Tice was the lead artist and we had a lot of wonderfully talented volunteers. While we had volunteers who were very talented artists, you don't need super talents to be a part of this project. I can't draw a straight line and they found things for me to help with!
The next project will be on Friday and Saturday, July 12 and 13. We will be at the viaduct on South College and First Street beginning at 9 a.m. both days. If you can color between the lines, then you have the ability it takes to be a volunteer! Many of the images that are on the walls simply follow a stencil and then you fill them in. Tice has an idea and a layout plan, so we invite the artist and the artist want-to-be to come and be a part of it. There is no charge to participate in this project.

___

Crime Scene Investigators. Lincoln Park District's best canine friend, "Parker," has been stolen. And we need all the detectives we can find. As a forensic scientist you hold the key to discovering the culprit. The class will get you into the hands-on world of forensics and crime solving as you build you own CSI crime kit. You will evaluate fingerprints and collect evidence at the scene of the crime. Your trained eye will determine who committed this awful crime.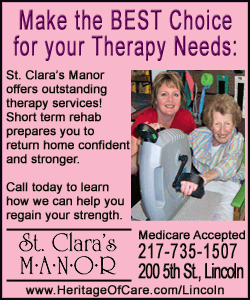 Lead investigator and crime scene expert is Richard Montcalm. He has been in law enforcement for over 21 years and has also been the chief of police for the city of Lincoln. Montcalm has an extensive background in teaching at the college level. The class will be at the park district on Primm Road, starting Monday, July 16, and running through Thursday, July 19. Investigators will work from 6:30 to 8 each evening. Cost is $40 in district.
[Text from file received from Roy Logan, Lincoln Park District]