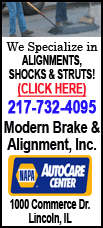 The Dow Jones industrial average closed down 36.18 points at 12,736.29. It was the Dow's third straight day of declines.
The Standard & Poor's 500 index fell 2.22 points to 1,352.46 and the Nasdaq composite index fell 5.56 points to 2,931.77. Health care stocks rose the most, while stocks of materials companies fell the most.
Alcoa, one of the 30 stocks in the Dow, became the first major U.S. company to report second-quarter results after the market closed Monday.
The aluminum manufacturer beat the earnings per share estimates of Wall Street analysts by a penny, although revenue dropped due to weaker prices and pockets of declining demand in the slowing global economy.
Alcoa's results are often seen as a harbinger for other major companies. So far, investor expectations are low. Wall Street forecasts a 1 percent decline in second-quarter earnings of S&P 500 companies compared with last year, according to Standard & Poor's Capital IQ. That would be the first decline since the third quarter of 2009.
Kim Caughey-Forrest, senior equity analyst at Fort Pitt Capital Group, said many portfolio managers are afraid that this earnings season could bring bad surprises about stocks they've picked up earlier this year.
"It's report card time," Caughey-Forrest said.
AMD dropped 6 percent in after-hours trading after the semiconductor company unexpectedly released preliminary results following the market close. Revenue fell 11 percent from the previous quarter due to weak sales in China and Europe. The company had previously forecast revenue growth of 3 percent. The stock slumped 33 cents to $5.29.
Investors were also spooked Monday by news from Europe, where Spain's borrowing costs rose as finance ministers from the euro countries gathered in Brussels to finalize a rescue package for Spain's banks.
The interest rate on Spain's 10-year government bond rose to 7 percent. Greece, Ireland and Portugal all asked for help from their international lenders when their own borrowing costs rose that high.
In Greece, a new three-party coalition government won a vote of confidence in parliament early Monday, ending a period of uncertainty that led to two elections in less than two months. Greece is in its fifth year of recession and has survived for two years on international rescue loans.