---
Lincolnís First Presbyterian Church is gearing up for their 32nd Annual Pulled Pork Barbeque Dinner to be held Wednesday, July 18 from 5:00 pm to 7:30 pm in the church fellowship hall at the corner of Pekin and Ottawa Streets. The menu includes a pulled pork sandwich, slaw or applesauce, chips, a drink and a homemade dessert, all for a fee.
This event is the major fundraiser for First Presbyterianís local mission activities with every penny being returned to the Lincoln & Logan County community.
Carryout dinners are available again this year from the back door of the church building. The 300 block of Ottawa Street will be one way headed south and the alley behind the church will be designated as one way headed east between the hours of 4:00 pm and 7:00 pm to better facilitate carryout traffic. The Logan County Auxiliary Police will be directing BBQ patron traffic during this period of time.
Tickets are available from church members, the church office, or may be purchased at the door. For more information, call 732-6141.
.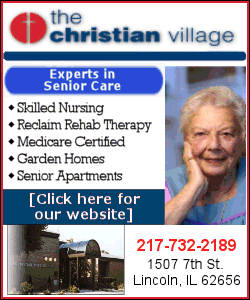 ---
Jefferson Street Christian Church invites children to this summerís Vacation Bible School called SKY: EVERYTHING IS POSSIBLE WITH GOD. Sky is for kids entering Kindergarten through Eighth grade and will run from Sunday, July 22 through Thursday, July 26 from 6:00 p.m. to 8:30 p.m. For more information, contact the Church office at 217-732-9294 or register online at www.jeffstreet.org. Jefferson Street Christian Church is located 1700 N. Jefferson Street in Lincoln