For your convenience, call Lucille to sign up at 947-2702 or schedule an appointment at www.bloodcenterimpact.org, using sponsor code 60017 to earn points for rewards. Walk-ins are also welcome and truly appreciated.

The blood donor bus will be at the church, 113 S. Gillett.

Central Illinois Community Blood Center, a not-for-profit organization, is the provider of lifesaving blood for 12 hospitals throughout central Illinois, including Memorial Medical Center and St. John's Hospital in Springfield. CICBC is a division of the Mississippi Valley Regional Blood Center, which collects over 180,000 units of blood annually and serves 80 hospitals in Illinois, Iowa, Missouri and Wisconsin.
---
Leadership Council for area manufacturers and distributors will meet July 24

The Lincoln & Logan County Development Partnership and Sysco are hosting a Leadership Council for area manufacturers and distributors July 24 at Sysco.

David Boulay, president of the Illinois Manufacturing Extension Center, will speak on MEP Next Generation Strategies. The five key areas address continuous improvement, technology acceleration, supply chain, sustainability and workforce development.

MEP, the Manufacturing Extension Partnership, is a program of the U.S. Department of Commerce.

Following Boulay's presentation, there will be a tour of Sysco.

For more information, contact the development partnership office at 217-732-8739 or chris@lincolnlogan.com.
---
WLB jr. high baseball camp July 23-26

Jeff Nelson, head baseball coach at West Lincoln-Broadwell, announces a July 23-26 baseball camp open to incoming fifth-, sixth-, seventh- and eighth-graders. The camp will last from 9 a.m. to 11:30 a.m. each day, Monday through Thursday, at Miller Field at the school.

The camp will focus primarily on the fundamentals of baseball, including hitting, fielding, throwing and base running.

All campers should wear baseball pants or sweatpants (no shorts or jeans), a hat, a T-shirt and any protective gear necessary. Participants should also bring baseball gloves to camp each day. Batting helmets, baseballs and catcher's equipment will be provided.

The registration deadline is July 19.

For more information, contact Nelson at 217-671-1825 or jnelson@lincolncollege.edu.
---
Free movie tickets available for 'Mr. Popper's Penguins'
Lincoln College is the sponsor of "Mr. Popper's Penguins," the seventh feature in a series of free family movies this summer at Lincoln Theater 4.
Free tickets for the movie are now available at the admissions office on the Lincoln College campus, 300 Keokuk St.
"Mr. Popper's Penguins" will be shown Saturday, July 21, at 10 a.m. and Tuesday, July 24, at 10 a.m.
For more information, click here.
Lincoln Theater 4 is at 215 S. Kickapoo St. in downtown Lincoln.
---
Verallia Glass to give free canning supplies to new fair entries
This year the Logan County Fair is hoping to attract more and new entrants into its various competitions. With that in mind, a special gift will be given to new entries in the Dairy and Culinary Department.
The first six new canning exhibitors who register at the fair secretary's office in Lincoln will receive one dozen jar lids, compliments of Verallia Glass of Lincoln.
For more information, call 217-732-3311.
Fair entries close July 25 at 4:30 p.m.
---
HSLC dog wash and bake sale at Habitat for Humanity Saturday
The Humane Society of Logan County will wash dogs on Saturday from 10 a.m. until 1 p.m. at Habitat for Humanity, 915 Woodlawn Road.
Donations will be accepted for the wash, and nail clipping is available for $7.
HSLC will also have a bake sale in the Habitat building.
In addition, Habitat will host the monthly electronic recycling drop-off Saturday from 9 a.m. to noon.
Get your dog washed, take home dessert and drop off your unwanted electronics all in one place.
---
Logan County Genealogical & Historical Society will meet Monday

Logan County Genealogical & Historical Society will meet Monday, July 16, at 6:30 p.m. at 114 N. Chicago St., across from the historic Lincoln Depot.

Bill Post, president of the Middletown Historical Society, will present a program about the history and sometimes unknown happenings of Middletown.

The public is invited.
---
Oasis to host seminar on alternatives to Illinois Cares
The Illinois Cares Rx program was discontinued effective July 1. This program provided assistance to seniors for expenses associated with prescription drugs. The Oasis Senior Center along with personnel from the Area Agency on Aging for Lincolnland will host a seminar at 10 a.m. Wednesday, July 18, to discuss additional options.
---
Logan County Democrats' fundraiser dinner July 21

The Logan County Democrats will host Lt. Gov. Sheila Simon at their "Blue Donkey" chicken dinner on July 21. The fundraiser dinner with homemade desserts will be served between 5 and 7:30 p.m.

Simon will be the headline speaker for the event, and Col. Jill Morganthaler will speak on the "Republican War on Women." Steve Waterworth, candidate for 18th Congressional District, will also speak.

Phil, Bonnie & Friends will play from 5 to 6 p.m., before the speakers begin. There will also be a 50-50 drawing.

Ticket information is available from Democratic precinct captains or by calling 217-796-3519. Look for the listing of precinct captains on Facebook at the page for Logan County Democrats.
---
Habitat electronics recycling Saturday
Habitat for Humanity of Logan County will have its monthly electronics recycling collection on Saturday at the Habitat for Humanity warehouse, 915 Woodlawn Road, from 9 a.m. to noon. The collection is offered free of charge to the public.
Each month volunteers pitch in to help Habitat with the work. This month the youth group from the Atlanta Christian Church will help out.
The following items will be accepted:
Computer equipment, including laptop and desktop personal computers, hard drives, monitors, keyboards, printers, scanners, cords and cables, and CD-ROM, DVD, zip and tape drives.

Entertainment equipment, including TVs, radios, stereo and game systems, game controls, VCR and DVD players, and cameras.

Small business equipment, including phones, copiers, typewriters, fax machines and calculators.
Small household and countertop appliances will also be accepted, as well as aluminum, copper, brass and stainless steel items.
Electronic equipment is not to be left at the site and is not collected outside of the hours of the collection.
Information on the electronics recycling program is available through Logan County Habitat for Humanity by contacting the office at 217-732-6412 or by visiting http://habitatlogan.org/.
---
July glass recycling collection Saturday

The Logan County Joint Solid Waste Agency, in collaboration with the Lincoln Woman's Club and Verallia Saint-Gobain Containers, will have its monthly glass collection on Saturday at the Logan County Fairgrounds between 9 a.m. and noon. Participants should use the Main Gate entrance.

The collection will be canceled in event of inclement weather or extreme heat.

Visit Logan County Joint Solid Waste Agency on Facebook for current information, updates and cancellation notices.

Participants are reminded that only container glass will be accepted during the collection. Container glass is any glass that originally held either a food or beverage product. All colors of glass will be accepted. The glass recycling program does not accept broken glass due to safety issues.

Participants are asked to thoroughly rinse all containers and to remove all plastic or metal lids, sleeves and rings. Labels, either foil or paper, may be left on the containers.

Due to the large volume of glass being collected, the glass recycling program reserves the right to refuse any glass that does not meet the preparation guidelines. Glass is not to be left at the site prior to the hours of the collection.

The glass recycling program does not accept light bulbs, fluorescent lights, window glass, mirrors, ceramics, dishware or CorningWare items. Participants are asked to comply with the glass collection guidelines, as a single piece of ceramic material or a light bulb can contaminate an entire load of glass.

Information on the county's recycling programs is available through the Logan County Joint Solid Waste Agency by contacting the office at 217-732-9636 or by visiting the agency website at www.co.logan.il.us -- select "Joint Solid Waste Agency."
---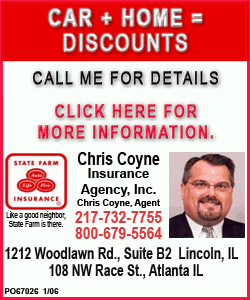 ---
Community Action Head Start Logan County recruitment

Community Action Head Start, a free program for income eligible-families with children from birth to age 5, is recruiting in Logan County for the 2012-2013 program year.

Head Start is a federally funded preschool program that serves income-eligible families and children between the ages of 3 and 5 years. Logan County Head Start provides center-based preschool services and runs during the school year, beginning Aug. 27.

Early Head Start is a child development program that serves income-eligible children and families including pregnant mothers, infants and toddlers up to age 3. Early Head Start provides home-based services throughout Logan County and runs the full calendar year, beginning Aug. 27.

Children do not have to have a disability to qualify. The program welcomes all eligible children. Additional services, including screenings and access to medical, dental, vision services are what set Head Start apart from other child development and preschool programs. Transportation is available to children and families to participate and receive full benefit of the program.

To apply for Head Start or Early Head Start, contact Brittany Feese or Cathy McIntosh, family partnership specialists, at 217-732-3448, or Leticia Cook or Amber Wright, family partnership specialists, at 217-732-2159.

The following documentation is required to complete the application:
Completed 2011 tax forms or W-2

Copy of child's birth certificate or medical card

Proof of Social Security, TANF and cash assistance (if you receive it)
Logan County Community Action Head Start is sponsored by the Community Action Partnership of Central Illinois, which serves the low-income and senior populations of six Illinois counties. For more information, visit www.capcil.org or facebook.com/capcil.
---
Oasis pork chop dinner July 26

The Oasis Senior Citizens of Logan County will host a butterfly pork chop drive-up dinner at the Lincoln IGA parking lot on Thursday, July 26, from 4 to 7 p.m.

Purchase your tickets at the senior center, 501 Pulaski St. in downtown Lincoln, or call 732-6132 for more information.
---
Millikin University spring dean's list includes Kincheloe, Vermeire, Kennett and Volle

DECATUR -- Brittany Kincheloe and Jordan Vermeire of Lincoln, Casey Kennett of Emden, and Megan Volle of Mount Pulaski have all been named to the Millikin University dean's list for the spring semester.

Kincheloe is a senior attending the College of Art & Sciences. Vermeire is a junior in the College of Professional Study.

Kennett is a sophomore and Volle a senior, both attending the College of Art & Sciences.
---
Logan County Fair office open

It's time to register entries for this year's fair

The Logan County Fair office is open Monday-Friday, 8 a.m.-4:30 p.m. All grandstand tickets are on sale now. Fair books are in and can be picked up at the office. Fair entries began July 2 and the deadline is July 25. Entries for the chili cook-off, talent contest and demo derby can be made in the office. For further information, visit www.logancountyfairil.com.
---
Calling all members of the LCHS Class of '72

Just a reminder to 1972 Lincoln Community High School graduates to get your information for the reunion returned no later than July 15. If you still need information about the reunion, please contact Suzi Curry Alsup, 217-732-8024.
---
Owl's Roost to host author Sherri Smith book signing

The Owl's Roost will host a book signing July 14 with author Sherri Smith, of Decatur.

What: Smith will be available to sign copies of her new book, "Bitter Water."

When: July 14, 2:30 p.m.

Where: Owl's Roost Bookstore, 427 Pulaski St.

The heroine of the book has come back home to try to find where her genetic eye disease came from. No one in her family has it. She also wants to reconcile with her parents and start a new life with a new awareness of her past, in preparation for a brighter future. The author leads the reader through "Bitter Water," with the promise of a brighter tomorrow on the other side.
---
LCHS Class of 1977 reunion July 28

The LCHS Class of 1977 will have a reunion on July 28 to mark 35 years since graduation. The class reunion will be at Logan Lanes, starting at 6:30 p.m. There will also be a golf outing at the Lincoln Elks Country Club.

There is no cost to attend the reunion. Food and drink will be available for purchase.

Logan Lanes will have their "Summer Bash" going on that evening, which will include live bands set up on the bowling lanes. Outdoor seating will also be available.

If you have any questions regarding the golf outing, contact Jane Quisenberry Ryan at jquiz1@comcast.net.

Questions on the reunion at Logan Lanes as well as updated classmate info can be sent to Tami Burwell Klink at tamiklink@gmail.com.

There is also a Class of 1977 page on Facebook at https://www.facebook.com/
groups/45382776778/.

For those needing hotel accommodations, the Best Western adjacent to Logan Lanes has a special rate for any Class of 1977 members. Please refer to the reunion in order to get the discount.

There are some classmates we've lost contact with, so help get the word out by mentioning this article to people you know, or tell them about the Facebook page.
---
Entries with recycled materials sought for Logan County Fair

The Logan County Joint Solid Waste Agency and the Lincoln Woman's Club are again sponsoring a recycled materials medium in the Fine Arts Division at the Logan County Fair. The medium will include recycled materials such as glass, metal, plastics, wood and paper. Artists are encouraged to use their imaginations in their choice of recycled materials and the application of those materials in an art project.

Recycled materials artwork will be sponsored in the following age divisions: adults, 18 years and over; young people, 13-17 years; and children, 10-12 years. Entries must be made to the Logan County Fair office by 4:30 p.m. July 25. Artwork must be delivered to the Fine Arts Exhibition Building between 10 a.m. and 3 p.m. July 30.

Award premiums for the artwork are being furnished from proceeds generated by the monthly glass collections co-sponsored by the Joint Solid Waste Agency and the Lincoln Woman's Club.

For more information on the Fine Arts Division, contact the Logan County Fair Association at 732-3311.
---
Mount Pulaski Courthouse to host quilt show -- exhibitors wanted

MOUNT PULASKI -- The Mount Pulaski Courthouse Foundation is sponsoring a quilt show Sept. 8 and 9, during the Mount Pulaski Fall Festival. The quilts will be displayed at the Mount Pulaski Courthouse from noon to 8 p.m. on Sept. 8 and from 9 a.m. to 8 p.m. Sept. 9.

All quilts are welcome. If you wish to exhibit a quilt, call the courthouse at 217-792-3919 between noon and 4 p.m. daily, Tuesday through Saturday, to obtain a quilt entry form and guidelines. Quilt entry forms are also available at many area shops and libraries. All entry forms are due by Aug. 15.

Awards will be provided for first, second and third places. The awards will be based on votes by all visitors.

Each quilt displayed has a unique story to tell. The quilt pictured was made on the Rosebud Indian Reservation in South Dakota. It was won in a basketball tournament by Terry Middletent, from the Lower Brule Reservation. When Pastor Barbara Stroud-Borth left her seminary internship on the Lower Brule Lakota Reservation, Terry and his wife, Mary Jane, gave it to her to honor and thank her for the year she lived and worked with the people of Lower Brule.

A committee of volunteers is putting on the quilt show to help raise money for the courthouse restoration. Any and all donations are greatly appreciated.
---