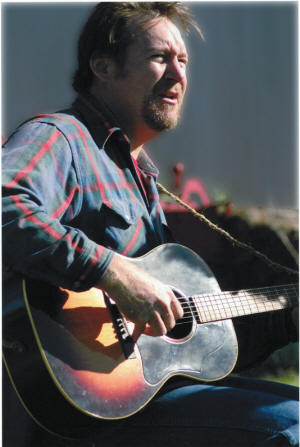 Hickory Ridge concert at Dickson Mounds

Send a link to a friend
[July 17, 2012] LEWISTOWN -- Singer-songwriter Tim Grimm will present an evening of original songs of the rural Midwest at the Hickory Ridge Concert Series on Saturday at 7:30 at the Dickson Mounds Museum.
Grimm walks the fine line between folk and country, while maintaining a strong footing in tradition. Listeners hear the rural rumblings that have shaped his life but are also invited in to a bigger picture. His songs are rich with descriptive details and sung with warmth and intimacy, recognizing the inextinguishable national romance with the idea of the family farm and the vanishing landscape of rural America. Critics searching for comparisons most often cite Johnny Cash, Woody Guthrie and (Nebraska era) Bruce Springsteen.
Grimm is an award-winning songwriter and actor on stage and screen. After several years working in Los Angeles, where he co-starred for two seasons on the NBC drama "Reasonable Doubts" and appeared in several films, he returned home to Indiana. He now lives with his wife and sons on an 80-acre farm close to where he grew up.
For more information, visit http://www.timgrimm.com/.
The Hickory Ridge Concert Series is hosted by singer-songwriter Chris Vallillo. Concerts are the third Saturday of every month at Dickson Mounds Museum and begin at 7:30 p.m., with the museum lobby opening at 6:30 p.m. Coffee, drinks and a variety of desserts are available during intermission. There is an admission charge of $5 per adult and $3 for children under 12. Sitting is limited to the first 150 people.
The Dickson Mounds branch of the Illinois State Museum is located between Lewistown and Havana off Routes 78 and 97. The museum is open free to the public from 8:30 a.m. to 5 p.m. every day. Tours and special programs are available for groups with reservations. For more information, call 309-547-3721 or TTY 217-782-9175 or visit the museum's website at http://www.experiencedicksonmounds.com/.
[Text from file received from Dickson Mounds Museum]