Extension offers free session on using drought-damaged corn for livestock feed

Send a link to a friend
[July 17, 2012] The lack of rainfall has many livestock producers scrambling for feed supplies. Pasture and hay growth has come to a standstill, many are contemplating the future feed needs of their herds, and there simply isn't enough hay available to supply the herd the remainder of the year through next spring. Using the drought-damaged corn to provide livestock feed is looking more attractive each day. University of Illinois Extension educators have arranged a free question-and-answer session in Springfield on Thursday evening to help producers understand their options.
There are multiple methods of offering the corn, each with pros and cons, including green chop, ensiling, baling and grazing. Many questions have arisen regarding the proper methods of using the corn.

For input, producers are invited to attend the program on Thursday at the University of Illinois Extension office at 700 S. Airport Drive in Springfield. The telenet session will start at 6 p.m. and will last approximately an hour to an hour and a half.

Topics of discussion will include:
Harvesting methods

Pricing your neighbor's field

Nitrate concerns

Methods to reduce nitrate levels

Animal performance
Other potential topics are early weaning of beef calves, water requirements and water quality, using co-products as forage replacement, and pasture management in drought.
Speakers will be University of Illinois Extension educators Monte Rowland, Ursa Coop and Travis Meteer.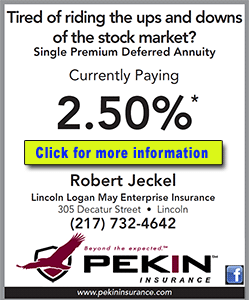 There is no fee for this program, but participants are asked to preregister by Wednesday by calling 217-782-4617 or at https://webs.extension.uiuc.edu/
registration/?RegistrationID=6969.
[Text from file received from Deborah Cavanaugh-Grant, University of Illinois Extension]