The HOPE Mobile regularly offers school and athletic physicals but has designated the following six dates to best serve the community: Aug. 1, 2, 9, 14, 15 and 16. The HOPE Mobile will be parked at the Logan County Department of Public Health on those days. Appointments are required and can be made by calling Family Medical Center at 217-732-9681.

Kathleen "Kat" Tucholke, a certified nurse practitioner from Memorial Physician Services at Family Medical Center, will conduct the physicals along with Ruth Freeman, a registered nurse with the Logan County Department of Public Health. Patients will be checked in and assisted by volunteers from the Abraham Lincoln Memorial Hospital Auxiliary.

The fee for the physicals is $45 for those making payment by check or cash at the time of service. Current Medicaid, All Kids and private insurance will be accepted and billed at the regular rate through Memorial Physician Services at Family Medical Center. Individuals not paying at the time of service are encouraged to check with their insurance to determine if the physical will be covered and confirm that Family Medical Center is an accepted provider.

Children under the age of 18 will require a consent. For a consent form or more information, call 217-605-5008.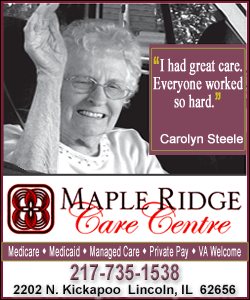 For a current HOPE Mobile schedule, visit www.healthycommunitiespartnership.org or click here for links.
The HOPE Mobile is a component of the Healthy Communities Partnership, a collaborative organization comprised of dozens of community agencies. The mobile medical unit provides primary and preventive health care services to Logan County residents and surrounding areas and is supported by the Abraham Lincoln Healthcare Foundation.
[Text from Healthy Communities Partnership news release received from Abraham Lincoln Memorial Hospital]