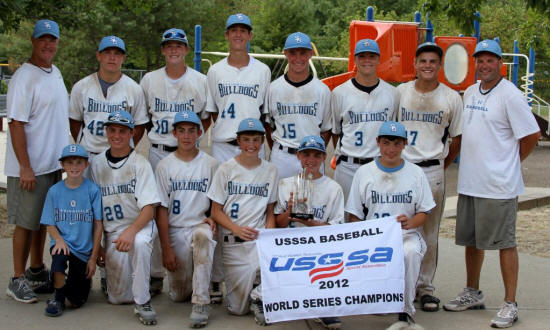 The 14U Springfield Bulldogs won the five-day, seven-state USSSA AAA World Series at Fountain Lakes Sports Complex in St. Louis July 20-24. In four-game pool play, the Bulldogs went 3-1, beating the Salina, Kan., Reds 6-2, the Blue Springs, Mo., Mac N Seitz Royals 7-3 and the Overland Park, Kan., Wolverines 15-0. The only loss came at the hands of the West Tennessee Stixx 9-7. In bracket play, the Bulldogs ran the table, beating the Springdale, Ark., Wildcats 9-0, the Waterloo, Wis., Team Heat Baseball 2-1, and avenged their only loss by beating the previously undefeated West Tennessee Stixx 10-7 for the title.
Cooper Hake of Lincoln (pictured in the front row, last one on the right) was the winning pitcher in game 4 and the final championship game 7.
Team members are Brady Dowson, of Auburn; Tyler Fitzgerald, Rochester; Dalton Fletcher, Athens; Cal Elvers, Springfield Sacred Heart-Griffin; Cooper Hake, Lincoln; Caleb Putman, Auburn; Sam Sergent, Springfield SHG; Garrett Shea, Warrensburg-Latham; Noah Skinner, Rochester; Jack Staten, Springfield SHG; Vince Vignali, Williamsville. Coaches are Mike Fitzgerald of Rochester and Bobby Dowson of Auburn.
Photo provided by Andi Hake