Go to work in the past: Historic site volunteer training Aug. 4

Send a link to a friend
[July 28, 2012] SPRINGFIELD -- You really can travel back in time as a volunteer at two Springfield historic sites, and a training session has been scheduled to show you how.
The Old State Capitol State Historic Site will host a training day Aug. 4 from 10 a.m. to 2 p.m. in the Old State Capitol Foundation Hall to prepare volunteers to work at downtown historic sites.

Volunteers are vital to the continued success of the programs at the Old State Capitol and Lincoln-Herndon Law Offices and are needed as tour guides, costumed interpreters, greeters, costume makers and to take part in special events. They can also participate in the ongoing "History Comes Alive" living history program this summer.

The Aug. 4 event will train those interested in volunteering and will introduce current volunteers to the new living history directions being taken to commemorate the 150th anniversary of the Civil War. Also, a new tour guide for the Lincoln-Herndon Law Offices will be introduced.
A new program titled "Illinois' Capital Goes to War" will feature many new exhibits, such as the Ladies' and Soldiers' Aid Society, depicting the role of women who met in the building and organized supplies for the comfort and relief of Illinois troops. Displays of Civil War flags, weapons and equipment are planned, and the "General of the Month" exhibit next to the adjutant general's office will continue to highlight one Illinois Civil War general each month. These new features will demonstrate how the Old State Capitol was transformed from the seat of state government to the headquarters of a state at war.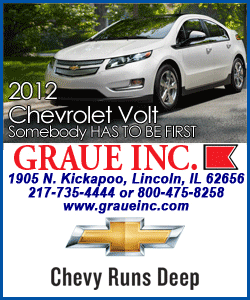 During the 1840s and 1850s, the Old State Capitol was the scene of debate over issues that led the nation to war in 1861. During the Civil War, the Statehouse was the center of the state's efforts at wartime mobilization. The Capitol also provided space for events aiding the needs of local residents as well as soldier relief efforts.
The Old State Capitol State Historic Site is administered by the Illinois Historic Preservation Agency and is open to the public every day from 9 a.m. to 5 p.m.
[Text from file received from the Illinois Historic Preservation Agency]