[July 31, 2012]

Send a link to a friend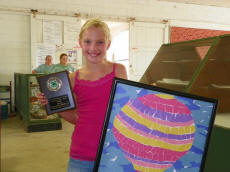 Around 70 kids participated in the Visual Arts category, many of them with multiple entries.
By the time the afternoon wound down, some of them had left before finding out how they placed.
Of those who were still present, Abigail Steffens, pictured at left, earned a place for Top Junior Visual with her paper hot air balloon picture.

Pictures by Nila Smith