Logan County Airport's 2013 projects announced
Send a link to a friend
[June 06, 2012] When the Logan County Airport Committee met on Monday evening, members discussed Logan County Airport projects for 2013. Present were Gene Rohlfs as committee chairman, board chairman Bob Farmer and committeemen Rick Aylesworth, Terry Carlton, Chuck Ruben and Kevin Bateman.
Logan County Airport projects for 2013 scheduled by Chuck Hagloch of Hanson Professional Services include trimming trees and new runway lighting.

Trees that encroach on airspace to the approach ends of runways 14 and 21 are due for trimming. An estimate of $75,000 was provided.

Committee members determined to inquire about that estimate. It was believed that this is a price for tree trimming that might be charged around Chicago, but high for the Logan County area.

The time has come to replace the pilot-controlled, moderate-intensity runway lighting system for runway 3/21, which is an asphalt strip 3,999 feet long. That cost is estimated at $645,000.

The projects are primarily federally funded. The county portion for the projects would be $33,365.
The committee also reviewed progress on this year's big project, a new five-place T-hangar that is in process.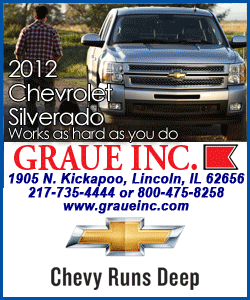 During the meeting, Heritage In Flight Museum representative Curt Fox reported that HIF will once again offer Young Eagle rides at the airport this weekend. The flights are free for kids ages 8-17 from 10 a.m. to noon Saturday. The Bloomington chapter of the EAA is the sponsor of the event.
The museum will also host an open house from 10 a.m. to 2 p.m. as part of its annual Airport Daze event that day.
[By JAN YOUNGQUIST]