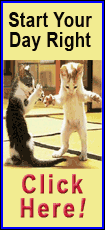 As we celebrate another birthday, especially in the lives of our survivors, we strive to eliminate this dreaded disease for all humanity.

The money raised through the Relay for Life goes to support the American Cancer Society. The American Cancer Society combines an unyielding passion with nearly a century of experience to save lives and end suffering from cancer, with more than 100,000 volunteers in Illinois and millions elsewhere taking up this fight to ensure more birthdays.

In 2011 the Logan County event had 36 teams that raised $78,185. This included 1,325 luminaries that lined the Lincoln Center walkway as participants remembered those who had fought the disease and also those who walk as survivors.

This year, to commemorate the 15th Relay for Life in Logan County, organizers hope to light 1,500 luminaries to celebrate. A three-time survivor, Ruth Ann Hieronymus, is the honorary chair.
Luminaries are $10 each and can be purchased in memory of one who has fought the fight and is now at rest or in honor of one who is continuing to fight and is a survivor.
The luminaries will be lit at 9 p.m. on Friday and will be left glowing until the end of the event. They are available from any team member or at the gate until 9 that night.
___
Logan County Relay for Life schedule of events
Wednesday, 10:30 a.m.-10 p.m.: Culver's for Relay
Ten percent of all sales that day go to fight cancer in Logan County.
Friday: Survivor buffet at the old gymnasium at Lincoln College
Reminder to all survivors: The survivor buffet, hosted by John Guzzardo, will be from 4:30 to 6 p.m. Friday in the old gym of Lincoln College. All survivors are welcome to attend, even if they did not receive an invitation. If you did not receive an invitation, call the survivor chair, Tonita Reifsteck, at 217-855-1645 to register.
On Friday night the Lincoln Center at Lincoln College will be transformed into "Party Like It's 2012" activities relating to the Relay for Life of Logan County.
There will be activities, a silent auction and food available for the 12 hours of the event, beginning at 6 p.m. Friday and ending with a balloon release at 6 a.m. Saturday. Anyone can participate, even if they are not officially on a team.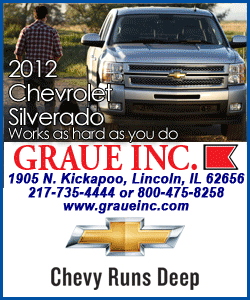 Schedule of activities for Friday night through Saturday morning
4:30-9 p.m. -- Sign in at Lincoln Center and receive survivor shirt and pin.

6 p.m. -- Prayer: Dustin Fulton
Presentation of the flags: Bob Sullivan of American Legion
National anthem with signer
Introduction of honorary chair and teams
First lap -- survivors. Soloist: Penny McIntosh
Caregivers lap.
Everyone joins in walking the lap.

7:30 p.m. -- Entertainment by Audra's Dance Studio

8-9 p.m. -- Various special entertainment and activities

9-10 p.m. -- Luminary walk. Music by Devin Vannoy.

10-midnight -- Music and entertainment

Midnight-1 a.m. -- Lap theme: "Party Like It's 2012." Dress up in favorite party outfit.

1-2 a.m. -- "Going Fishing" lap with fishing hat and gear. Let's go fishing for a cure.

2-3 a.m. -- "Funniest Dance" lap (i.e., YMCA, hula hoop, chicken dance, twist, macarena, the swim, etc.)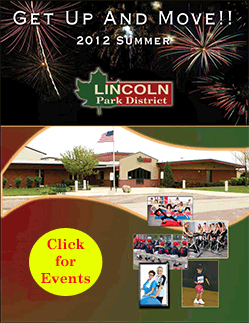 3-4 a.m. -- "Blast from the Past" lap. Get funky with dress and hair.

4-5 a.m. -- "Pajama Party" lap

5-6 a.m. -- Coffee and doughnuts lap

6 a.m. -- Balloon release and closing
[Text from file received from Tonia Reifsteck]