Strong thunderstorms possible this afternoon

Send a link to a friend
[June 11, 2012] The National Weather Service in Lincoln released the following weather outlook at 11:37 a.m. Monday for the counties of Christian, DeWitt, Logan, Macon, McLean and Sangamon in central Illinois.
Monday afternoon and Monday night
A cold front will bring scattered thunderstorms to the area today through around sunset. A few thunderstorms could be strong this afternoon with gusty winds, small hail and brief heavy downpours possible.
Tuesday through Sunday
No hazardous weather is expected at this time.
___
Short-term forecast
A short-term forecast was released by the National Weather Service at 9:11 a.m. Monday for the counties of Knox, Stark, Peoria, Marshall, Woodford, Fulton, Tazewell, McLean, Schuyler, Mason, Logan, DeWitt, Piatt, Cass, Menard, Scott, Morgan, Sangamon, Christian, Macon, Moultrie and Shelby, including the cities of Galesburg, Peoria, Bloomington, Normal, Havana, Lincoln, Jacksonville, Springfield, Taylorville, Decatur and Shelbyville.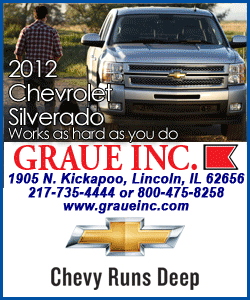 An area of showers and a few thunderstorms will spread east from a Galesburg-to-Taylorville line to a Bloomington-to-Effingham line by midday. Isolated showers and thunderstorms are also possible ahead of this area. The best chance of thunderstorms with brief heavy rains will be southwest of Springfield.
___
For more information and updates:
http://www.crh.noaa.gov/ilx/
[Text from National Weather Service, Lincoln office]