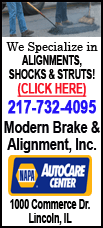 The State Bank of Lincoln was one of just a few Illinois lenders that saw the new program as a way to help their customers with moderate to low income qualify to buy a home. With a guarantee from Rural Development, the bank was able to offer home loans with no down payment, a fixed interest rate and a long term. Since its adoption of the guaranteed loan program, the bank has used the program to make affordable home loans to thousands of rural homebuyers. The bank has also become a USDA nationally approved lender, making guaranteed loans in multiple states.

Jeanne Scheurer, State Bank of Lincoln vice president, says: "This is a good program for borrowers that have no money to put down, and the Rural Development's housing staff is easy to work with. We are able to assist borrowers that we otherwise could not help."

Colleen Callahan, Rural Development state director, presented a plaque to Steve Aughenbaugh, bank president, in recognition of the bank's 20th anniversary with the loan program.
Callahan said, "The State Bank of Lincoln has been an integral part of the progress of this community and the surrounding area for more than a century. Their early adoption and continued commitment to the GRH program is a good example of how they seek out ways to help their community prosper."
In the first year of the program, with strong support from the State Bank of Lincoln, a total of 93 Illinois buyers used the USDA guarantee to purchase their homes. By 1995, the number of guaranteed home loans had grown to 540, surpassing Rural Development's direct home loan program that was authorized 46 years earlier. The program continues to expand, topping 4,500 guarantees last year throughout rural Illinois.
Rural Development has continued to find ways to keep the GRH program responsive to the changing needs of homebuyers and the housing market. In 1998, the program's loan limitation was lifted so that moderate-income homebuyers could purchase any home they could afford in a rural community. In 2001, the agency permitted existing USDA customers to refinance their mortgages at a reduced interest rate. The American Reinvestment and Recovery Act provided $10 million in supplemental funding to support homebuyers during the housing crisis.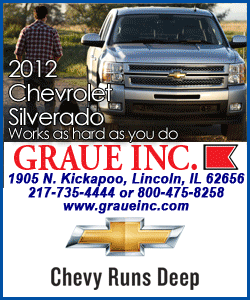 Other recent adaptations included a change in the fee structure that ensured funding for guarantees would be available year-round and not dependent on annual congressional appropriations. This year, Rural Development in Illinois and 18 other states, where homeowners were hardest hit by financial markets, were selected to offer a streamlined refinancing program to existing USDA housing customers to obtain a reduced interest rate loan with lower closing costs. Finally, in response to tightening federal budgets, Rural Development centralized the processing of GRH loans to ensure quick and consistent responses to guarantee requests.
Interested homebuyers can call the State Bank of Lincoln at 800-847-1536 or Rural Development at 866-481-9575 for more information on the guaranteed home loans.
Rural Development has more than 40 programs that foster growth and economic stability in rural areas by providing affordable financing and technical assistance. In addition to housing, support is available for regional food systems, broadband and biofuel infrastructure, business development, and community needs. More information on USDA Rural Development programs is available on the Web at www.rurdev.usda.gov/il.
[Text from file received from USDA Rural Development, Illinois]