Lincoln Speedway has a great crowd for Friday night's races

Send a link to a friend
[June 18, 2012] Springfield boys were dominating the track in the Sprint car division as the MOWA Series returned to Lincoln Speedway on Friday. Jimmy Hurley, hailing from Springfield, was able to find victory lane. A.J. Bruns finished second, and Korey Weyant, also from Springfield, finished third. Jimmy Moughan finished fourth.
As the Street Stock division pulled onto the track for their feature event, John Farris was looking for his fourth feature win. Farris, in the 90 car, was able to accomplish just that. Travis Johnson in the 18 took home second, followed by Paul Bulpitt in the 62B. Farris currently leads this division in the points chase at Lincoln Speedway.

Jackie Willis Jr. in the 17 came out on top with the win in the Modified feature event. Jeffrey Leka, last week's feature winner, wasn't able to make a repeat appearance. He finished fourth. Kelly Kovski in the 10K finished strong, taking home third. Points leader Brian Lynn suffered mechanical issues at the end of the first heat race and made a lap in the feature to be able to get the minimum number of points, in an attempt to keep him in the race for the Lincoln Speedway track championship. Allen Weisser in the 25W led much of the race with Jackie Willis Jr. right on his tail. Weisser wasn't able to hold him off to claim the victory, and took home second place. Brian Diveley in the 29 finished fifth in the feature after winning his heat race and went ahead of Lynn in the points chase. Brandon Roberts in the 35, who also claimed a victory in his heat race, finished sixth.

Zach Bollinger in the 77, no stranger to victory lane at Lincoln Speedway, captured the checkered flag in the Hornet division. Tyler Benson in the B5 finished second, after being in victory lane last week. Bo O'Donoghue in the 31O took home third. Bollinger currently is the points leader for the track championship in the Hornet division.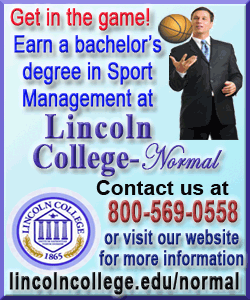 The Pro Late Model feature event was last on tap at Lincoln Speedway. Adam Mefford in the B4 wheeled his Pro Late Model to victory lane, fending off Nick Bauman in the B1. Bauman, the current leader in the points race in this class, finished second, followed by Dick Taylor in the 4T. Evan Fink in the 1F finished sixth in the feature and was not able to gain any ground on Bauman in the points chase Friday night. Matt Beadles in the 17B finished fourth and sits three points behind Evan Fink.

For more information and the schedule of events, check www.lincolnspeedwayil.com.
[Text from file received from Lincoln Speedway]