[June 19, 2012]

Send a link to a friend
This year everything the Scouts used for their cleanup day was donated by area businesses. They received trash bags and other items, food items from Hardee's, McDonald's, Bonanza, Mel-O-Cream and Kroger. In addition Qik-n-EZ donated ice, Beck's donated gas for vehicles, and McEntire Roofing made a cash donation
This year's sweep coordinator, Scout Caleb Papach, said they were very thankful for the generosity of all the businesses that helped support their efforts Saturday.
Pictures by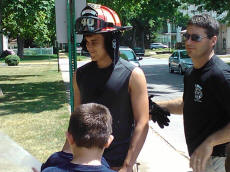 Patrick Doolin, whose son Luke is a Scout, surprised everyone at the park when he brought out his antique fire truck.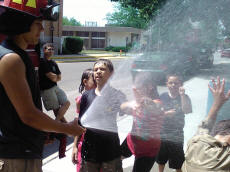 Papach takes on the role of the fire chief and sprays the kids with water while Doolin watches in the background.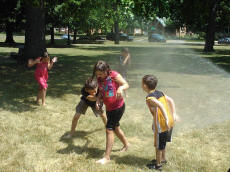 With temperatures near the noon hour coming close to and even above 90 degrees ...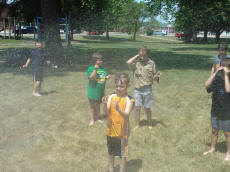 ... the kids were not shy about getting wet.