The appointment allows Vannoy to carry out duties as assigned by the director and to assume responsibility for duties when the director and deputy director are not present.

EMA director Dan Fulscher said that all the years since he's been the director, he has known and appreciated Vannoy. "He's always available when called upon," Fulscher said.

Vannoy has been chosen as Logan County's volunteer of the year five of the last 10 years and has been recognized as a state of Illinois volunteer of the year.

As an example of the agency's need and Vannoy's capability, Fulscher recalled a time when he and Storer were both out of range and Vannoy took the mobile command unit MC13 to a house fire. It worked out well for everyone that he could do that.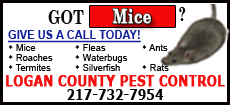 Fulscher added that Vannoy works with "wholeheartedness." He said that on Thursday, Vannoy "was up at 5 a.m. and took a day off work for the full-scale exercise," then came to the county meeting in the evening for his recommendation for appointment.
Board member Terry Carlton said he has seen Vannoy working with EMA. "He's a real team player, responsible and willing," Carlton said. "Good choice; great team member."
Vannoy was not able to attend the official vote on Tuesday evening as he had a tech rehearsal for choir.
Prairie Panther full-scale exercise goes all-out
EMA and law enforcement chair Rick Aylesworth commended Fulscher, deputy director Terry Storer and Alana Sorrentino, 911, and elected officials for their roles in the full-scale exercise on Thursday.
"It went off without a hitch and it was really interesting to see," Aylesworth said.
Fulscher gave his summary of the event that involved the coordination of all the local emergency response agencies, including law enforcement, fire departments, paramedics, and health officials from the health department and hospital, as well as local elected officials.
"What an unbelievable event. Eight years in training, eight years in functional design exercises, all rolled into one exercise," Fulscher said.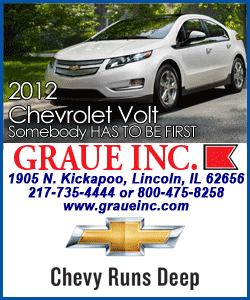 He went on to explain that when the design team began in October, they were asked, "What of the eight (exercises) do you want to cut out to get this down to eight hours?"
And, they said, "None."
It ended up with an anhydrous ammonia tank leak, a bomb threat downtown, a chemical spray, active shooters, SWAT response team activation, weapons of mass destruction and more, he said.
All the scenarios built over eight years were exercised, incorporating full communications between the Emergency Operating Center and the field and communication to the public through media.
"I am so ecstatically excited by the new members that have come in," Fulscher said.
Joining the EOC communications team were Sally Litterly, county clerk and recorder; Vickie Dugan, county treasurer; and Mary Kelley, circuit clerk.
Fulscher added, "We are so blessed by the volunteers."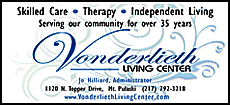 He said that at the end of the day, the regional coordinator said that in the evaluators' reports, there was not one major deficiency.
"Are we perfect? Heavens, no! There's a whole lot more that we can do. Mainly, keep training. But, I am ecstatic," Fulscher told county board members on Thursday.
Call to duty in summit
Fulscher added that he was unable to tell everyone at the time, but he was asked to serve as deputy incident commander for the NATO summit in Chicago in March. Due to security issues, he couldn't talk about it previously. He plans to prepare a brief report for next month on his experience. He said, "Thank you for allowing me to be a part of that."
[By JAN YOUNGQUIST]