Park district notes
From Roy Logan, program coordinator

Send a link to a friend
[June 13, 2012] Want some excitement this summer? Try "Putting on a Play." Learn how plays are staged, rehearsed and performed. Thespians will have the chance to create their own play, which will be presented for family and friends at a grand performance on Friday, the last day of the camp.
Actors and actresses will learn to adapt stories for the stage, create their own costumes, makeup, props and sets to be used. Lots of other theater-themed activities will be featured as well. Bring your sack lunch, a swimsuit and towel for breaks at the pool (Monday and Thursday at Lincoln College). Transportation will be provided by Lincoln Park District.

Matt Mason and Tara Shane will be the theater directors for this fun-filled week. They did an awesome job with the first theater camp, and the park district welcomes them back to the stage. Join the group Monday, June 18, at 9 a.m., and the day won't end until 4. There is so much fun planned, it will take all day to get it in. The camp is for ages 9 and older. Please preregister.

Lincoln Park District will host its 12th annual Summer Golf Camp beginning Monday, June 18. There will be morning and evening sessions.

The park district welcomes back Doug Dean, a lead instructor and Class A member of the PGA of America who has played professionally on various mini-tours. He has also been involved in the Hook a Kid on Golf, a program designed to introduce the game to young players.

Monday through Thursday will focus on all aspects of the game. Covered will be grip, stance and posture. Players will be instructed on approach and tee shots, short game, putting and chipping. Course management, golf etiquette and basic rules of the game will also be discussed.

Friday will find the group at Four Willows Golf Course in Mason City to enjoy nine holes of golf. Lunch will be provided. Dean will be on the course, where he will continue offering instruction and sharing his passion and knowledge of the game with his students.

Sessions will begin on the driving range at the park district. Class times are 8-10 a.m. or 6-8 p.m. Cost is $80 in district. Young people should be at least 9 years old.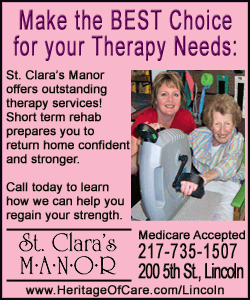 Totally new this June is a program in viaduct art, also known as street art, specifically visual art developed in public spaces. For this, the park district is partnering with the city of Lincoln and Chris Tice, an artist and educator based in Lincoln.
Two training sessions are included in the registration fees. The first will be Tuesday, June 19, from 6 to 8 p.m. This workshop is intended for ages 12 to adult and will consist of lecture and demonstration of techniques. All materials will be provided. The next class is Tuesday, June 26, from 6 to 8 p.m. This workshop is intended for ages 12 and under and will consist of games and demonstration of techniques. Again all materials will be provided. Classes will be at Lincoln Park District, 1400 Primm Road.
Actual application of the art to the viaducts will be on Friday and Saturday, June 29 and 30. The viaducts are located at the intersection of College and First Street and South Kickapoo. Fees are $20 for an individual and $35 for a family in the park district.
Fourth of July chicken dinner tickets are available at the park district. The dinner will be a drive-thru hosted at the American Legion on Friday, June 29. Proceeds from the dinner will go toward the expenses of the fireworks.
Join the old-fashioned walking parade on the Fourth of July. Watch for details in the days ahead. Fireworks at the park district will be at dusk on the Fourth of July. That evening there will also be a bags tournament before the fireworks.
[Text from file received from Roy Logan, Lincoln Park District]