The Mount Pulaski Community Band presented the first of four summer concerts on a delightful Wednesday evening with a cooling breeze. The band performed in the bandstand on the Mount Pulaski Courthouse lawn in front of 50 or more nestled in their lawn chairs within the courthouse and tree shade -- in addition to those in their cars on the southeast side of the square.
Conductor Harry Hild Jr. had his players perform "Aztec Fire," "Escapada," "It Don't Mean a Thing," "Hymn to the Saints," "Bridgeview," "Thames Alley March," "Acclamations," "Bugle Call Rag," "Morning Has Broken," "March Militaire," "Raise Your Joys and Triumphs High," and "Transit of Venus," bookended by the "Star-Spangled Banner" and "God Bless America."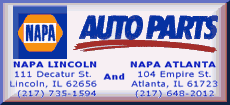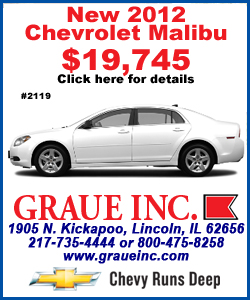 Hild introduced each piece with interesting background information. The annual performance was well-received by all. Credit was given to the following: Mount Pulaski Grade School, Mount Pulaski Park District, Tomlinson Trust, AMP Studios, and Bill and Judy Cavestani.
The Cavestani twin dogs enjoyed themselves, too.