Sen. Dick Durbin of Illinois, the No. 2 Senate Democrat, met with Goodell on Wednesday. The meeting came about three months after Durbin first said he wanted Congress to examine whether federal law should make it a crime to have a bounty system such as the one the NFL says the New Orleans Saints ran from 2009-11.
"What I hear from them now is, it's going to be clear: The actions that have been taken against some are going to be taken against others if they violate these basic rules that are being established," Durbin said. "What more could I accomplish with a law? This is better."
Among the steps that persuaded Durbin to abandon a hearing: Posters will be put in locker rooms about bounties and will include information for a hotline so players can report bounty-related activity, and there will be a new bounty section in the players' handbook.
Goodell will also write a letter to all league and team employees and an email to registered NFL fans regarding bounties. And a bounties section will be part of the new NFL Players Handbook, which is given to each NFL player.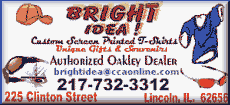 "The results that we've come up with in 90 days are better than anything we could have achieved with a congressional hearing, the markup of a bill, an amendment on the floor and everything that might have followed," Durbin said.
The NFL Players Association, in a written statement, called for a hearing.
"We thank the Senator for his interest on these important issues. Given this keen interest, the players hope and expect that the Commissioner and the Senator will commit to a hearing on health and safety in the NFL in the near future," the statement said.
Though the process didn't escalate to a hearing, Durbin's and Goodell's involvement drew criticism from a fellow senator.
"Senator Durbin and Roger Goodell both have more pressing matters than this public relations stunt," Sen. David Vitter, R-La., said in a statement.
Durbin defended his role.
"Some people question, 'Well, what does Congress have to do with this?'" Durbin said. "It's a federal crime to bribe somebody to influence the outcome of a professional sporting event. This bounty program is as close to bribery to influence the outcome of an event as I can think of."