[June 22, 2012]

Send a link to a friend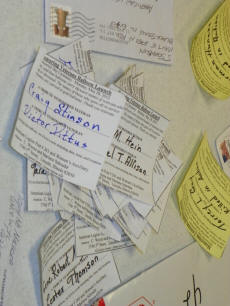 Pictured to the left and below are items that were on display Thursday morning at American Legion Post 263 in Lincoln.
There are letters from folks who found the balloons that were launched from Lincoln on Memorial Day and the little pieces of paper that were found in the balloons, which they returned in their letters.
The top letter is from Chenoa and the second one from Bristol, Ind. There is also a copy of a newspaper article from La Porte, Ind.
The last two pictures were taken in the lounge of Post 263. The first is a small sample of the Legion license plates that are on display in the lounge, and the last picture is a plate from American Legion Post 143 in Bristol.
Pictures by Nila Smith