Orvetta Turner
[June 22, 2012] ATLANTA -- Orvetta M. Turner, 82, of Atlanta, died Thursday, June 21, 2012, at 1:48 p.m. at Hopedale Hospital.
(Below is a copy of the obituary from the funeral home.)
___
Atlanta -- Orvetta M. Turner, 82, of Atlanta, passed away on Thursday, June 21, 2012 at 1:48 p.m. at Hopedale Hospital.
Funeral services for Mrs. Turner will be held on Tuesday, June 26, 2012 at 10:00 a.m. at the Armington Christian Church. Mr. Ed Loyd and Pastor John Horner will officiate.
Visitation will be held at the Armington Christian Church on Monday, June 25, 2012, from 5:00 p.m. until 7:30 p.m.
Burial will be in Mountjoy Cemetery.
Surviving Mrs. Turner are her children: Gilbert (Jan) Turner III of Atlanta, John Turner of Atlanta and Peggy (John) Haning of Minier; eight grandchildren, and one great-granddaughter; one brother, Al Horner of Armington and one sister, Eleanor Rogers of Mackinaw.
Orvetta was preceded in death by her husband, parents and one daughter, Brenda Kay.
Orvetta Mae Horner was born on April 6, 1930 in Hittle Township, the daughter of William J. and Lucille Mullins Horner. She married Gilbert Turner, Jr. on December 15, 1951 in rural Atlanta. He preceded her in death on April 21, 2001.
Mrs. Turner graduated from Hittle Township High School on May 26, 1948. She then completed nursing school at Methodist School of Nursing in 1951. She worked as a registered nurse at Hopedale Medical Complex for thirty years and retired from the position of Director of Nursing.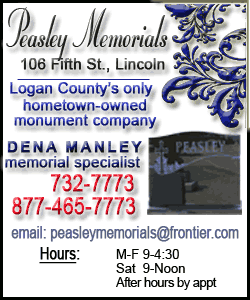 Orvetta was a lifetime member of the Armington Christian Church and served on the Mountjoy Cemetery Board.
Memorials may be made to Armington Christian Church or the Hopedale Medical Foundation.
Final arrangements are entrusted to Quiram-Peasley Funeral Home of Atlanta.