Game 1: Heat 7, Taylorville 5
Starting off on the mound for Lincoln was Ben Steiner, pitching five innings with eight strikeouts and one earned run on four hits. Ryan Thomas pitched two innings with two strikeouts and three earned runs on two hits. The Heat offense was led by K.J. Fry, who went 3 for 4, including a double, triple, two runs and four RBIs. Other Lincoln offense came from Cooper Hitchens and Thomas, each with one hit and two runs, and A.J. Duff had an RBI double.
Game 2: Heat 11, Riverton 4
On the mound for the second game was Duff, going four innings with five strikeouts and giving up no runs on three hits. Collin Swallow pitched the last three innings with four earned runs. The Lincoln offense was led by four players with two hits each: Preston Ebleherr, with a double and two RBIs, Hitchens with a triple, Thomas with two RBIs, and Duff with a double. Other offense was provided by Steiner with a double and sacrifice fly, Karter Browne with a single and RBI, Andrew Yount with an RBI single, and Jacob Huskins with an RBI.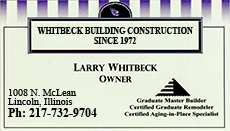 Game 3: Heat 5, Mount Zion 3
In the third game, Fry pitched the first five innings, striking out three and giving up only three runs on five hits. Thomas pitched the last two innings of shutout ball, giving up only one hit. The offense was led by Steiner going 2 for 2 with a double, two RBIs and one run. Other Heat offense was by Thomas with a double and two runs, Hitchens with a double, RBI and one run, and Duff with a hit and an RBI.
Semifinal: Heat 6, Mooreville Stars (Decatur) 5
The semifinal game came down to the last at-bat for the home team with Lincoln down 5-3. With the first two batters going down in order and the heart of the lineup coming up, the Heat did not give in. Hitchens and Fry worked out full-count walks and Steiner reached on an infield error, which left the bases loaded for Duff, who hit a double into the gap to score two and tie it at 5. Browne then hit a 0-1 pitch into left field to plate Steiner with the winning run as Browne was mobbed by his teammates for the walk-off game-winning hit.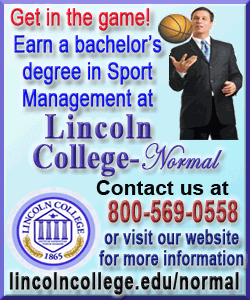 Steiner started on the mound, pitching 3 1-3 innings, giving up only one run on four hits while striking out six. Thomas came in with two on in the fourth and one out, to get Lincoln out of a jam with a double-play ball back to the mound. He finished with 3 2-3 innings, giving up only three runs on seven hits while striking out three. Offense for Lincoln came from Swallow's two hits and one run, Browne's two hits and an RBI, Duff's two doubles and two RBIs, Isaac Lewis' one hit and one run, Ebelherr's double and RBI, Fry's hit, run and RBI, and Steiner's hit and two runs.
Championship: Heat 2, Jacksonville 7
Lincoln came into the championship game as a slight underdog, as Jacksonville averaged 11 runs per game in the tournament against some very good teams. The Heat's pitching and defense did a good job against this hard-hitting offense. Lincoln's starting pitcher Hitchens went three innings, allowing only three runs on five hits and striking out two. Duff pitched one inning, allowing one run on one hit. Ebelherr pitched the final two innings for the Heat, allowing three runs on five hits and striking out two. In the Heat offense, Steiner went 2 for 3 with a double and one run, Cole Sheley and Swallow had one hit each, and Jacob Huskins added an RBI.
The 14U Lincoln Heat team is coached by Curt Courtwright.
[Text from file received from Tom Steiner]