Lincoln College alum at Olympic Team Trials
Send a link to a friend
[June 27, 2012] Lincoln College alum Bryce Bohman (Class of 2011) is competing in the 2012 U.S. Olympic Team Trials in Omaha, Neb., June 26 through July 2. Bohman is competing in the 100-meter butterfly, 200-meter backstroke and 100-meter backstroke, his signature event.
While attending Lincoln College, Bohman was a three-time NJCAA national champion and is an NJCAA record holder in the 100-meter backstroke.

Bohman, a Moline native, is heading into his senior season at West Virginia University in Morgantown, W.Va.

Schedules in Bohman's events:
100-meter backstroke -- preliminaries and semifinals on Tuesday; final on Wednesday

100-meter butterfly -- preliminaries and semifinals on Saturday; final on Sunday

200-meter backstroke -- preliminaries and semifinals on Friday; final on Saturday
To make the U.S. swimming team for the Olympics, a swimmer must finish first or second at the USA Swimming Olympic Trials Swim Meet and must be a U.S. citizen. Rules from FINA, the international governing body of swimming, allow a maximum team size of 52 swimmers, with 26 men and 26 women. Each country has a maximum of two entries in each of 26 individual events, 13 for men and 13 for women, and one entry in each of the six relays, three each for men and women.
Besides an individual country's possible Olympic trials qualifying standards, there are A and B level minimum Olympic swimming qualifying standards for swimmers to take part in the Olympic Games.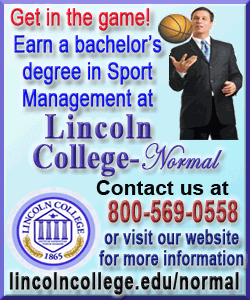 Assuming that a swimmer has an A level qualifying time for the Olympic Games, to make the U.S. team, swimmers must earn a qualifying time for the Olympics Trials Swim Meet; race at the Olympic Trials Swim Meet; and finish in the top two in an event at the trials. Swimmers who finish among the top four swimmers in the 100 or 200 freestyle events might qualify as relay-only swimmers for the Olympic squad. This depends upon the 26-swimmer per gender limit.

To follow the U.S. Olympic Team Trials, go to www.omegatiming.com or www.usaswimming.org.
[Text from file received from Lincoln College]