Park district notes
From Roy Logan, program coordinator

Send a link to a friend
[June 26, 2012] The 4th of July Fireworks & Celebration Committee invites you to a three-piece fried chicken fundraiser. The dinner will be hosted at the American Legion, 1740 Fifth St., on Friday from 4:30 to 7 p.m. The menu will include potato salad, baked beans and roll.
The cost is $7.50 per ticket and advance purchases may be made at Lincoln Park District. A limited number of tickets will be available at the event. All proceeds from the dinner will be used to offset the costs of Lincoln's fireworks.

Anyone wanting to donate toward the expenses of the fireworks may do so at any time. Your gifts will allow the tradition of hometown fireworks to remain a reality. Make your donation checks payable to Lincoln Fireworks Fund in care of Lincoln Park District, 1400 Primm Road. The park district encourages any area resident wishing to be a member of the 4th of July Fireworks & Celebration Committee to join. Simply ask one of the committee members working the chicken dinner or call Lincoln Park District at 732-8770.

The annual children's old-fashioned walking parade will be on July 4. Join the group at Scully Park at 9 a.m. for registration. Judging will begin at 9:30. The parade will start after the judging. Parents are encouraged to accompany their children in the parade. Parents who do not walk in the parade can meet their children at the Lincoln Park District, where the parade will conclude and the winners will be announced.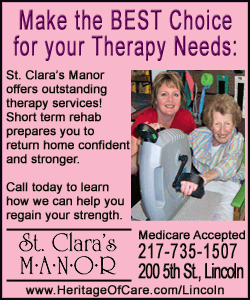 After the parade and prize presentations, join in a water balloon fight versus the Lincoln Fire Department. Everyone else will be on Team Park District, including the mayor and who knows, maybe the chief of police too. The fire department will bring a fire truck and the park district will have water balloons. This has always been a fun time and everyone is guaranteed to go home soaking wet.
Come on back to the park district early in the evening on the Fourth for tons of fun. A bags tournament will begin at 6 p.m. with Mark Tippett as the event coordinator. There will be concessions, a DJ and, of course, the fireworks at dusk. The American Legion color guard will be present for the national anthem as well.
[Text from file received from Roy Logan, Lincoln Park District]