The camp will be directed by Dawn Crawford, head varsity coach at LCHS.

The cost is $60 and the deadline is July 5.

For more information call 737-9031.
---

Calling all members of the LCHS Class of '72
Just a reminder to 1972 Lincoln Community High School graduates to get your information for the reunion returned no later than July 15. If you still need information about the reunion, please contact Suzi Curry Alsup, 217-732-8024.
---

Lincoln Writers Club to meet July 10
Lincoln Writers Club will meet July 10 in the Alumni Room of the Lincoln College dining hall.
Suggested topics: something very beautiful, favorite way to travel, a funny mistake or a favorite hobby.
For more info, call 732-2723. All are welcome.
---

Owl's Roost to host author Sherri Smith book signing
The Owl's Roost will host a book signing July 14 with author Sherri Smith, of Decatur.
What: Smith will be available to sign copies of her new book, "Bitter Water."
When: July 14, 2:30 p.m.
Where: Owl's Roost Bookstore, 427 Pulaski St.
The heroine of the book has come back home to try to find where her genetic eye disease came from. No one in her family has it. She also wants to reconcile with her parents and start a new life with a new awareness of her past, in preparation for a brighter future. The author leads the reader through "Bitter Water," with the promise of a brighter tomorrow on the other side.
---

ALMH to sponsor blood drive at Lincoln Masonic Center
To help ensure an adequate blood supply for the region, Abraham Lincoln Memorial Hospital is sponsoring a blood drive Monday at the Lincoln Masonic Center, 2022 N. Kickapoo. The hours of the blood drive are noon to 6 p.m.
For your convenience, call Alexis to sign up toll-free at 1-866-GIVE-BLD (1-866-448-3253), ext. 158, or schedule an appointment online at www.bloodcenterimpact.org, using sponsor code 60057 to earn points for rewards. Walk-ins are also welcome.
Central Illinois Community Blood Center, a not-for-profit organization, is the provider of life-saving blood for 12 hospitals throughout central Illinois, including Memorial Medical Center and St. John's Hospital in Springfield. CICBC is a division of the Mississippi Valley Regional Blood Center, which collects over 180,000 units of blood annually and serves 80 hospitals in Illinois, Iowa, Missouri and Wisconsin.
---

Stitchers Group garage sale CANCELED
The garage sale scheduled for Saturday, June 30, by the Stitchers Group of St. John United Church of Christ has been canceled due to the heat and ongoing construction at the church.
The group is planning to reschedule the sale at a later date.
---

Free movie tickets available for 'The Smurfs'
Jake's Furnishings is the sponsor of "The Smurfs," the fifth feature in a series of free family movies this summer at Lincoln Theater 4.
Free tickets are now available at Jake's Furnishings, 1100 Woodlawn Road.
"The Smurfs" will be shown Saturday, July 7, at 10 a.m. and Tuesday, July 10, at 10 a.m.
For more information, click here.
Lincoln Theater 4 is at 215 S. Kickapoo St. in downtown Lincoln.
---

Katherine Boss makes college dean's list for spring semester
Katherine Alexandra Boss of Lincoln was named to the dean's list for the spring semester at the University of Southern Mississippi. She is a student at the Hattiesburg, Miss., campus.
Dean's list scholars are those with at least a 3.5 grade-point average, but less than a 4.0.
The University of Southern Mississippi, founded in 1910, is a comprehensive doctoral and research-extensive university. Southern Miss is located in Hattiesburg, Miss., with an additional campus and teaching and research sites on the Mississippi Gulf Coast. Further information is available at www.usm.edu.
---

Lincoln College spring semester academic honors
Lincoln College recognizes the following area students for their academic achievement in the spring semester:
Dean's list (3.25-3.74 GPA)
Kylie Ash, Lincoln

Angela Bell, Hartsburg

Jared Berger, Lincoln

Elizabeth Evans, Lincoln

Nathan Graham, Mason City

Michael Hardwick, Lincoln

Shelby Leigh, Lincoln

Casey Perrine, Mason City

Nicholas Smith, Clinton
President's list (3.75-3.99 GPA)
Special honors (4.0 GPA)
---

LCHS Class of 1977 reunion July 28
The LCHS Class of 1977 will have a reunion on July 28 to mark 35 years since graduation. The class reunion will be at Logan Lanes, starting at 6:30 p.m. There will also be a golf outing at the Lincoln Elks Country Club.
There is no cost to attend the reunion. Food and drink will be available for purchase.
Logan Lanes will have their "Summer Bash" going on that evening, which will include live bands set up on the bowling lanes. Outdoor seating will also be available.
If you have any questions regarding the golf outing, contact Jane Quisenberry Ryan at jquiz1@comcast.net.
Questions on the reunion at Logan Lanes as well as updated classmate info can be sent to Tami Burwell Klink at tamiklink@gmail.com.
There is also a Class of 1977 page on Facebook at https://www.facebook.com/
groups/45382776778/.
For those needing hotel accommodations, the Best Western adjacent to Logan Lanes has a special rate for any Class of 1977 members. Please refer to the reunion in order to get the discount.
There are some classmates we've lost contact with, so help get the word out by mentioning this article to people you know, or tell them about the Facebook page.
---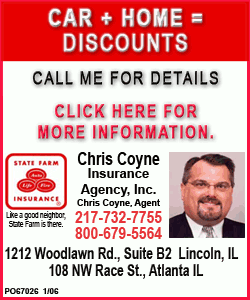 ---

Erich Maxheimer, Mount Pulaski, completes Officer Training School

MOUNT PULASKI -- Erich Maxheimer, a Mount. Pulaski High School graduate and University of Illinois student, just successfully completed a 28-day field training course at the Officer Training School campus at Maxwell Air Force Base in Montgomery, Ala.

Air University holds the field-training courses for college students in the ROTC program during the summer between their sophomore and junior years of college. It is a vital process of leadership, development and assessment to determine their worthiness to become an Air Force commissioned officer. Only a select number of cadets have the opportunity to be evaluated in the summer ROTC training program. Cadets are tested in physical fitness, drill assessment, and the Field Training Manual and Airman's Manual.

Erich is the son of Mike and Suzie Maxheimer of Chestnut. He is the grandson of Earl and Dolores Maxheimer of Mount Pulaski, Charlie and June Huffer of Lincoln, and Pete and Della Eeten of Pekin.
---

Entries with recycled materials sought for Logan County Fair

The Logan County Joint Solid Waste Agency and the Lincoln Woman's Club are again sponsoring a recycled materials medium in the Fine Arts Division at the Logan County Fair. The medium will include recycled materials such as glass, metal, plastics, wood and paper. Artists are encouraged to use their imaginations in their choice of recycled materials and the application of those materials in an art project.

Recycled materials artwork will be sponsored in the following age divisions: adults, 18 years and over; young people, 13-17 years; and children, 10-12 years. Entries must be made to the Logan County Fair office by 4:30 p.m. July 25. Artwork must be delivered to the Fine Arts Exhibition Building between 10 a.m. and 3 p.m. July 30.

Award premiums for the artwork are being furnished from proceeds generated by the monthly glass collections co-sponsored by the Joint Solid Waste Agency and the Lincoln Woman's Club.

For more information on the Fine Arts Division, contact the Logan County Fair Association at 732-3311.
---

Lincoln Church of the Nazarene to host 'Parents Night Out'

The Lincoln Church of the Nazarene will host a "Parents Night Out," with three sessions available the last weekend in June.

The event will give parents an opportunity to enjoy three hours out at any place of their choosing.

Meanwhile, children ages 4-10 are invited to the church, which will be transformed into the Starlight Space Center, where they will enjoy a "Galactic Adventure with God" and will be entered in a drawing for a new bike. There will be food, activities and fun at no cost to the parents.

The church hopes to give the first 10 couples who sign up a gift certificate to one of the local restaurants.

The dates and times are Thursday and Friday, June 28 and 29, 5:30-8:30 p.m., and Saturday, June 30, from noon until 3 p.m.

Call Alice to register at 217-971-6595.

Lincoln Church of the Nazarene is located at 2501 Woodlawn Road.
---

Mount Pulaski Courthouse to host quilt show -- exhibitors wanted

MOUNT PULASKI -- The Mount Pulaski Courthouse Foundation is sponsoring a quilt show Sept. 8 and 9, during the Mount Pulaski Fall Festival. The quilts will be displayed at the Mount Pulaski Courthouse from noon to 8 p.m. on Sept. 8 and from 9 a.m. to 8 p.m. Sept. 9.

All quilts are welcome. If you wish to exhibit a quilt, call the courthouse at 217-792-3919 between noon and 4 p.m. daily, Tuesday through Saturday, to obtain a quilt entry form and guidelines. Quilt entry forms are also available at many area shops and libraries. All entry forms are due by Aug. 15.

Awards will be provided for first, second and third places. The awards will be based on votes by all visitors.

Each quilt displayed has a unique story to tell. The quilt pictured was made on the Rosebud Indian Reservation in South Dakota. It was won in a basketball tournament by Terry Middletent, from the Lower Brule Reservation. When Pastor Barbara Stroud-Borth left her seminary internship on the Lower Brule Lakota Reservation, Terry and his wife, Mary Jane, gave it to her to honor and thank her for the year she lived and worked with the people of Lower Brule.

A committee of volunteers is putting on the quilt show to help raise money for the courthouse restoration. Any and all donations are greatly appreciated.
---

Mount Pulaski CUD 23 preschool openings

MOUNT PULASKI -- Mount Pulaski Grade School has openings in its preschool program for the 2012-2013 school year.

The program guidelines are:
Children must be 3 years old prior to Sept. 1.

Three-year-olds will meet in the morning (8-11 a.m.).

Four-year-olds will meet in the afternoon (noon-3 p.m.).

Classes meet five times per week.

Monthly tuition is $100.

Transportation is the parent's responsibility.
If you are interested or have any questions about the program, call Gene Newton, Mount Pulaski Grade School principal, at 217-792-7220.
---

Delavan to host Civil War re-enactment battle June 30-July 1

DELAVAN -- The inaugural Little Crane Creek Civil War re-enactment battle will be on June 30 and July 1 at the Lake Park in Delavan. It is one of many events in Delavan in conjunction with the city's175th birthday. The re-enactment is free and open to the public.

Re-enactors representing both the North and South will participate in a battle scheduled for 3 p.m. on Saturday and 2 p.m. on Sunday.

The weekend will also include an appearance by President Abraham Lincoln, Civil War storyteller Brett Hall and Civil War songs by Bob Welch. On Saturday evening there will be a period dance featuring the 33rd Illinois Volunteer Regiment Band.
---

Harvest of Talents Princess Tea planned for June 30
Harvest of Talents for World Hunger and Lincoln Christian Church are sponsoring a Princess Tea again this year for young ladies ages 3-13. The event will be on June 30 at the Lincoln Christian Church Fellowship Hall. Doors will open at 10:45 a.m., and the tea is from 11:30 a.m. to 1 p.m.
The theme of the event will be "Secret Garden." Young ladies are invited to dress in whatever makes them feel pretty. Tea will be served on decorated tables and entertainment will be provided. There will also be time allowed for photo ops.
Tickets go on sale May 1. Seating is limited. For more details and to make reservations, contact Vera Thomas at the church office.
Young ladies are to be accompanied by a chaperone, such as their mother, grandmother, aunt or friend.
Lincoln Christian Church is located at 204 N. McLean St. in Lincoln.
All proceeds from the Princess Tea will go the 2012 Harvest of Talents for World Hunger, to feed hungry people worldwide.
---