Zion finished the regular season with a 23-5 record, going undefeated against all of the Lutheran schools that they played. The Lady Eagles' wins included the championship of the 16-team Edwardsville-Trinity Lutheran Tip-Off Tournament for the second consecutive year.

Participating in the state tournament for the Eagles are Gabi Cox, Brooklyn Hermes, Danielle Burgrabe, Hailie Williams, Anna Sielaff, Anna Walters, Lexie Groves, Elizabeth Ford and Rachel Lockenour.

The Lady Eagles are coached by Todd Koehler and Bob Cox.

State tournament games will be played in Arlington Heights, Crystal Lake, Lombard and Roselle.

The Lady Eagles will play their first game at Arlington Heights at 2:30 on Friday afternoon with Mount Prospect-St. Paul Lutheran. Second-round action will begin at 9:45 a.m. on Saturday at Roselle.

Zion Lutheran captured fourth place in last year's state tournament.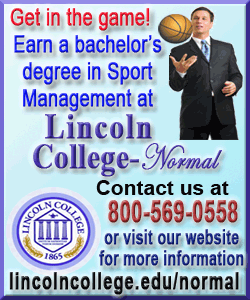 There will be an all-school pep rally at ZLS on Thursday at 2:30 to send the Lady Eagles off to the state tournament in Chicago.
The 16 Lutheran school teams participating in the tournament are Palatine-Immanuel, Centralia-Trinity, Marengo-Zion, Springfield-Our Savior's, Lombard-St. John's, Norwood Park-Unity West, Belleville-Zion, East Dundee-Immanuel, Lincoln-Zion, Mount Prospect-St. Paul, Yorkville-Cross, Peoria-Concordia, Edwardsville-Trinity, Roselle-Trinity, Morton-Bethel and Batavia-Immanuel.
Additional state tournament information, including brackets, is available at http://www.luthsports.org/hoops/gshoops.htm.
[Text from file received from Zion Lutheran School, Lincoln]