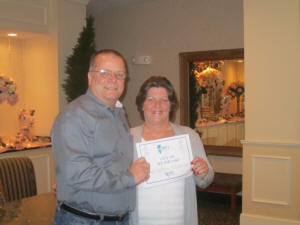 Mount Pulaski has best-tasting water 2 years running

Send a link to a friend
(Click on photo for larger image.)
[March 03, 2012] MOUNT PULASKI -- For the second consecutive year, the city of Mount Pulaski is the recipient of the "Best Tasting Water" award from the Illinois Rural Water Association. Water operator Deanna Young accepted the award on behalf of Mount Pulaski. Ms. Young is pictured receiving the award from Frank Dunmire, executive director of the water association.
Mount Pulaski's public water system supplies clean and safe drinking water to a population of 1,680. The water is pumped from a sand and gravel aquifer by four community wells into a Class C water treatment facility.

"Good water and good health are closely related," says Kathy Rodgers, source water specialist with Illinois Rural Water Association. "IRWA's annual water taste test contest provides an opportunity for public water systems to show pride in the quality of the water that they supply to their community."

All voting members of Illinois Rural Water Association were eligible to enter the contest. Participating public water systems submitted their water samples to contest officials at the association's annual technical conference Feb. 21 at the Keller Convention Center in Effingham. The water samples were then assigned a number and transferred into uniform glass jars.

Judges were selected from vendors that participated in this year's conference. Entries were scored by the chosen panel of unbiased judges in a "double blind" sampling. Judges were instructed to base their scoring evenly on clarity, odor and taste. Scores were tabulated on a 10-point scale; 1 point was the lowest score possible, and 10 points was the best score possible. Immediately following the contest, Mount Pulaski was announced as the winner with a score of 25 out of 30 possible points.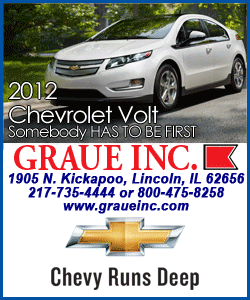 The city of Mount Pulaski received a certificate from the water association and is now eligible to participate in the 2013 National Rural Waster Association's Great American Taste Test conducted annually as part of the Rural Water Rally in Washington, D.C.
The Illinois Rural Water Association is Illinois' largest rural utility association. Rural water associations from all 50 states form the National Rural Water Association. The primary goal of the Illinois association is to promote professional, efficient operation of water and wastewater systems through education and on-site assistance, working on a one-to-one basis, and addressing problems from the system level. For further information, contact IRWA's Rodgers at 217-820-8377.
[Text from file received from the Illinois Rural Water Association]