Lincoln College captures conference title
Lincoln College (23-6, 8-2) 93, Danville Area (17-12 (8-2) 81

Send a link to a friend
[March 05, 2012] DANVILLE -- The Lincoln College Lynx defeated Danville 93-81 on their home floor Saturday for a share of the Mid-West Athletic Conference title for the fifth consecutive year. Danville took control of the first half, going into halftime 37-32 behind the strong post play of Shea Sumpter with 10 points. The start of the second half saw Danville push their lead up 13 points, with about 15 minutes before Lincoln picked up full court and was able to get some points in transition.

"Sam James (Rockford Boylan HS) did a great job for us in the first half with 10 points and some big rebounds to keep us within reach," said Lincoln head coach Kirk Whiteman. "Kevin Kidd hit some big shots during our run in the second half. Overall, I thought the difference was our guards being able to get the basket, which led to open shots for everyone on the team. It's really impressive to have six guys in double figures for the game."

The Lynx were led by Brandon Pullman with 26 points, followed by Greg Garrett, 17 points; Sam James, 12 points; Rahjan Muhammad, 11 points; and Kevin Kidd and Tylon Deal with 10 each.

Lincoln College has earned the No. 2 seed in the Region 24 conference tournament. The tournament will be played at Illinois Central College in East Peoria on Saturday. No. 2-ranked Lincoln will play No. 7 Lincoln Land at 4 p.m., with the winner advancing to the region championship on Sunday at 3 p.m. The winner of the Region 24 championship will advance to the NJCAA national tournament in Danville.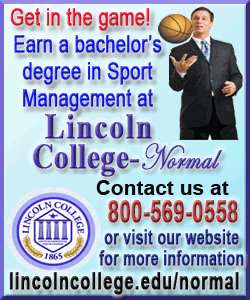 The Lynx are looking to head back to nationals for the fourth straight year, where they finished third in 2008 and have won the last two national titles.
(See handwritten stats.)
___
Online:
Lincoln College men's basketball
[Text from file received from Lincoln College]