(Copy)

How long have you been a Chamber member?

Since 2011

I joined the Chamber because…

Being involved in any community is an essential obligation that all business owners should take seriously. We know that the chamber does some fantastic things, and we felt like it was our responsibility to get involved, and do our part.

Why did you decide to invest in Logan County?

We decided to invest in Logan County many years ago at this point. We felt like Lincoln was a great place to plant our roots and to raise our family. The Midwest values and the people are what ultimately caused us to make this decision. We truly love it here.

What products and services do you offer to Logan County?

We provide an advanced level of chiropractic care, we provide our trademarked progressive rehabilitation techniques, spinal decompression which is critical for patients with severe low back issues, nutritional and wellness programs, as well as safety information workshops for the betterment of our community and the businesses in it.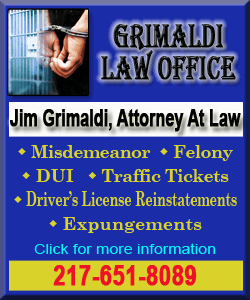 What does the future of your business look like?
The future of our business looks incredibly bright, as a HealthSource franchise, we stay on the cutting edge of not only the techniques to help patients get better, but also many other components of health. We are ecstatic to be a part of this community, and are looking forward to being here for decades to come.
Contact person: Dr. Frank Adubato, phone 217-732-1111
[Text copied from file received from the Lincoln/Logan County Chamber of Commerce]