This winter has been a hard one on city officials. Alderwoman Melody Anderson had foot surgery and has sported a cast most of the winter. Alderman David Armbrust missed a session a few weeks ago because of an infection. Alderman Buzz Busby took a fall in February and broke his leg. Alderwoman Kathy Horn struggled with a back issue for quite some time. O'Donohue had his eye surgery, and Alderwoman Jonie Tibbs suffered a dislocated shoulder after taking a fall after Christmas.

In spite of all this, nine aldermen were present for the Monday night voting session, with Busby being absent for the evening.

Consent agenda includes approval of Railsplitter Antique Auto Show schedule

Included in this week's consent agenda was payment of bills, approval of meeting minutes for Feb. 6 and 21, and approval of a request for the Railsplitter Antique Auto Club to use downtown streets for its monthly car shows. With the exception of the show at the annual Lincoln Art & Balloon Festival, the street closures usually involve the 100 block of Kickapoo Street.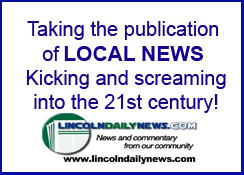 This year's show schedule is as follows:
April 28 -- Cruise-in, downtown Lincoln, 5-8 p.m.

May 26 -- Cruise-in, downtown Lincoln; 5-8 p.m.

June 23 -- Super Cruise for St. Jude, downtown Lincoln, 5-9 p.m.

July 28 -- Cruise-in, downtown Lincoln, 5-8 p.m.

Aug. 26 --Car show at Lincoln Art & Balloon Festival, downtown Lincoln, Sunday afternoon, 1-4

Sept. 22 -- Cruise-in, downtown Lincoln, 5-8 p.m.
The club will also have two special events in other locations:
June 30 -- Cruise-in at Culver's, 2530 Woodlawn Road, 5-9 p.m.

Oct. 6 -- Cruise-in at The Mill, 738 S. Washington St., 11 a.m.-3 p.m.
The consent agenda was passed by unanimous vote.
City to seek bids for new doors
By unanimous vote, a request was approved to go out for bid for five new entryway doors for the waste treatment plant buildings.
During discussion O'Donohue asked if the doors were a want or a need. Waste treatment manager Darrel Palmer said they were a need. Alderwoman Marty Neitzel, who chairs the wastewater committee, added that Palmer had trimmed his original request of seven doors down to five.
Old hospital parking lot to be appraised for value
By unanimous vote, the council approved hiring an appraiser to determine the value of the site of the old Abraham Lincoln Memorial Hospital parking lot on the north side of Eighth Street in Lincoln.
The city hopes to sell the property to assist in funding of the new APEX at City Center.
During discussion Tibbs asked if the appraisal had to be done by someone special. City attorney Bill Bates and Mayor Keith Snyder indicated that it did. The appraiser will have to have a special certification to do the job.
Tibbs also asked about how the bill would be paid and was told there is a seldom-used line in the budget for property appraisal. Sufficient money is there to cover the bill.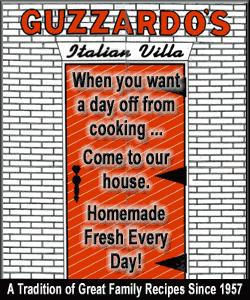 Old Civil War statue will be buried at Postville
A request from the Civil War Statue Committee to bury the remains of the old Civil War soldier statue in Postville Park was approved by a 9-0 vote.
Chuck Conzo, statue committee member and city treasurer, said the tentative date set for the burial is April 9.
Approval for letter of retirement tabled
A letter of retirement submitted by Doris Anderson was tabled due to a question regarding a communication Snyder has received from the Illinois Municipal Retirement Fund.
Snyder said the information he'd received from IMRF had raised a question he felt needed to be answered before the committee votes to approve Anderson's retirement. He did not elaborate on the subject.
Clerk's office granted permission to hire one full-time employee
By unanimous vote the council approved hiring one new full-time staff member for the city clerk's office.
The office has been short-handed for quite some time with the absence of Anderson on family medical leave and the resignation of part-time staff members.
Gehlbach was recently permitted to hire one part-time employee, and the city police department has lent the office the services of Brenda McCabe on a temporary part-time basis.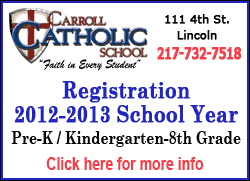 When the request was approved, Gehlbach expressed her appreciation to the council with repeated thank-yous. She said the next person on the civil service list should be available to start work for the city on March 15.
March is American Red Cross Month
The final act of the night was to approve a resolution making the month of March American Red Cross Month in Lincoln.
Snyder said the request could have been added to the consent agenda, but it arrived at his office too late to be included in last week's discussions.
During discussion the council noted the good work of the organization and the fact they are currently heavily involved in assisting those who have suffered losses due to recent tornados in southern Illinois, Kentucky and Missouri.
At the end of the night, the last point of business was a reminder from Alderwoman Melody Anderson that the first budget workshop meeting will be on Saturday, beginning at 8 a.m.
Twenty minutes into the night, the council adjourned with all business for the week concluded.
[By NILA SMITH]