Steve Smith of the Farnsworth Group, a power distribution company, began by explaining that electric supply aggregation is a relatively new process for residents of Illinois municipalities and counties for buying power in the deregulated electric market -- called "government aggregation." Smith added that Illinois law allows municipalities and counties to arrange for the purchase of electricity on behalf of residential and small-business customers within their borders.

Darrell Knauer related that voters are being asked in the election next week to decide whether or not to adopt aggregation in their communities or counties. If the referendum is approved, this will mean that the municipality, such as Mount Pulaski, will select an electric supplier for its residents and small businesses. However, as Knauer pointed out, each individual customer may always choose not to participate at any time in the future.

Natalie Hemmer said that Ameren Illinois "will not be impacted negatively or positively, as they will continue to provide the delivery of our electrical energy." In Illinois, she said, customers have the right to purchase electricity from a third-party retail electric supplier.
She and Smith explained that government aggregation is just one additional form of electric choice that many municipalities and counties are making available to consumers. The referendum measure on the upcoming ballot, they explained, will be an "opt-out," which, if passed, will have residents and small businesses automatically enrolled in the aggregation program, unless they choose not to participate, or opt-out.
Hemmer said Ameren Illinois "does not profit from energy supply costs."
She continued: "We are neutral as to whether a town, county or individual customer chooses another electric provider. We do not recommend one electricity supplier over another, but we do encourage customers to explore all of their supply options."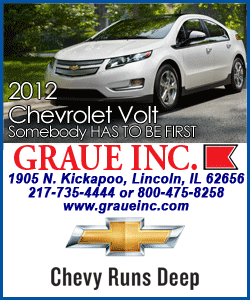 If a consumer opts-out, Ameren Illinois "will continue to purchase power for customers who do not choose another provider or choose to opt-out of the government aggregation plan," she said.
Hemmer and Smith said citizens should compare the supply pricing offered by various retail electric suppliers. One way is to visit https://power2switch.com/. Customers may find out the price they are currently paying in their rate zone by visiting the website http://www.pluginillinois.org/.
A couple of questions were asked:
Question 1: How can Mount Pulaski get an additional line of electricity coming into our community like Latham has?
Hemmer responded that this is being looked into. Itís not a new question, but rather an old problem that is currently being discussed and options explored. She did add that Mount Pulaski is just one of many communities that have only one avenue of energy.
Question 2: What is the root source of most of our energy?
Hemmer responded that this is outlined in the brochure enclosed in monthly statements, or go to http://apps1.eere.energy.gov/states/
energy_summary.cfm/state=IL.
She went on to say that much or most of the energy source currently is coal. But, a law was recently passed specifying that by 2025, "25 percent of all electrical energy must be derived from non-fossil fuels, such as wind and solar." That is why there are so many wind turbines going up in Illinois, she added.
[Text from file received from Phil Bertoni]