On hand for the meeting were development partnership board president Steve Smith, partnership director Michael Maniscalco, Mark Pruitt of ICCAN and Stacy Young from Ameren Illinois.

The meeting at the Lincoln Park District center drew about a half-dozen attendees.

Prior to the meeting, Smith said none of the meetings they had this week -- two in Atlanta, one in Mount Pulaski and one earlier in the day in Lincoln -- had been well-attended, but he felt the concept of electric aggregation had been well-received by those present.

The night opened with Smith talking about how the opportunity for electric aggregation came to Lincoln and Logan County. Smith is currently with Farnsworth Group and is the director of business development and renewable energy projects.

He said his role with Farnsworth has no connection with electric aggregation, but it did lead him to become more informed about the program. As the president of the development partnership board, he saw aggregation as something the partnership could get involved in for the good of the entire county.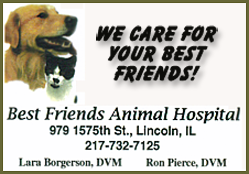 Smith talked about the partnership drawing its support from the city of Lincoln, Logan County and other areas in the county.
"We saw this as an opportunity to reach out to the communities and to give them something," he said.
Stacy Young is the community and public relations representative for this region for Ameren Illinois. She spoke briefly, telling the group Ameren is in full support of Lincoln going through the aggregation process, and she also assured them their delivery of service will still be provided by Ameren.
One of the most confusing parts of dealing with this topic is to realize there is a difference between "service" and "delivery of service."
Service is the actual electricity. There are a variety of companies in Illinois that sell electricity, but they do not deliver it.
Delivery is what Ameren does when they provide the lines, poles, meters and the staff to support those items, as well as the billing and other services associated with an account.
When a resident chooses to buy electricity from a service provider, the cost of service, electricity, is only about 15 percent of the Ameren bill, with the larger portion being the cost of delivery.
When Mark Pruitt of ICCAN took the floor, he showed the group a breakdown of their Ameren bill and explained what part of the bill is not affected and where the actual cost-savings of aggregation can be found.
Throughout the process, it was also made clear that customers who choose electric aggregation will have no real contact with their service provider. Ameren Illinois is responsible for the delivery of electricity regardless of who the provider might be.
In essence, all the information shared at the meeting was a repeat of discussions that have taken place and been covered by LDN in the reports listed at the end of this article.
As Pruitt wrapped up his discussion, questions did come from the audience.
One gentleman wanted to know basically how much money Ameren would be making from the aggregation. He asked if there were going to be administrative fees attached to the delivery of electricity from a non-Ameren supplier.
Pruitt said there were no administrative fees attached, but the gentleman said he found that hard to comprehend.
The fact is, the law that started utility deregulation in 1997 was written in such a manner that Ameren cannot add a surcharge for the delivery of electric service from a retail service provider.
Ameren's standard charges for the delivery of electricity include the administrative costs of their day-to-day operations. Those charges are not affected by a change in service provider.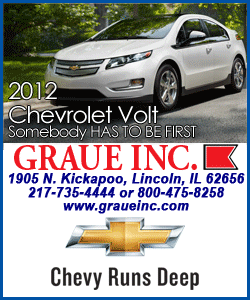 Another interesting question that came from the floor was: "What happens if we choose a service provider and that company goes under?"
The answer came from Pruitt and Young as they together explained that this would basically be a problem for Ameren to deal with, and it would not disrupt service to any customer.
In the end a new service provider would have to be found, but as that process was going on, customers would continue to receive their electric service. The service would be provided through Ameren, and it would be Ameren's responsibility to collect payment from the service provider. Customers would have to do nothing, and they would notice no difference in their electric service.
One of the final questions put to Pruitt was regarding making the wrong choices. A gentleman in the group said he had noted that in Pruitt's presentation he had shown several communities that were saving money by going with a retail supplier. But he wondered how many communities ended up not saving or even paying more because of this plan.
Pruitt said none; every community is saving money, some more than others, but nonetheless, they are all saving.
He said this is because when looking at a retail supplier, if that company cannot beat the prices coming from Ameren, then they don't get the contract. And if no company can beat Ameren, then no contracts are signed and customers stay with Ameren
After the meeting, Mayor Keith Snyder spoke about the upcoming election and the referendum that will appear on the ballot.
"All we're looking for (from voters) is the authority to pursue this. The city isn't going to make a dime from this, because this isn't that kind of referendum," Snyder said. He went on to explain that some referendums placed on ballots do involve taxpayer dollars, but this is not one of them.
All the city is asking voters to do is give them the authority to investigate this further and try to offer them a savings on their utility costs.
In addition, if the referendum passes, no one has to agree to participate in any program the city presents.
[By NILA SMITH]
Past related articles
Related information