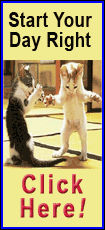 The "From the Ground Up" group hosted an open house at the Lincoln Public Library. The purpose was to attract new attention to the Lincoln Community Gardens project and hopefully get more people involved in growing their own vegetables.

Kathy Vinyard, who heads up the project along with Rachel Smith, spoke about what is in store for gardeners this year.

The price and size of plots is the same as it was last year, and gardens will be set up at the housing authority at 1028 N. College, as well as two others at 417 N. Madison and 116 S. Logan.

Again this year Illinois American Water is donating the water for the gardens and providing barrels for rainwater collection.

The Illinois Department on Aging, Salvation Army and New Beginnings in Lincoln are donating seeds.
The horticulture class at Lincoln Community High School will raise sweet and hot pepper plants along with broccoli and lettuce that will be given to the garden project. In addition, tomato plants are being raised by the horticulture program at Lincoln Correctional Center and will be donated to the project.
Vinyard said all of these will be available free of charge to anyone who signs up for a garden plot.
At last week's meeting, Tim Smith and Bruce Huskins were on hand to discuss gardening, answer questions, and offer tips and tricks they've learned over the years.
They spoke on seed and plant varieties, talked about fertilizer and chemicals, and warned of the hazards of not obeying the guidelines posted on chemical packages.
Some of the more interesting parts of their talks involved how to control bugs and wildlife in a natural way.
Any gardener will tell you that the "pesky rabbit" loves to eat tender young plants. These little guys can consume an entire lettuce patch in no time flat.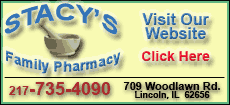 From the audience, Toni Reifsteck shared that she has learned the rabbits don't like garlic, and if she sprays garlic-flavored Pam around her plants, the rabbits won't bother them.
Another tip that came from Smith is to lay wood blanks on top of the planted rows until plants are well sprouted. This will fend off rabbits and birds who like to snatch up the little sprouts as they are coming through the ground.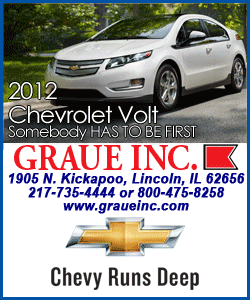 It was also noted the wood blanks will help hold the moisture in the ground while the seeds are germinating.
Another interesting tidbit that came to light was how to attract and catch Japanese beetles without investing in costly commercial products. Gardeners can take a can of beer or soda, and empty it by about half, dig a hole and set the can in it so the top is at ground level. The bugs will be attracted to the sweet smell of the liquid, crawl inside the can to get to it, but will not be able to crawl back out.
Smith said he has been gardening since he was a very young child. His grandmother was the one who got him started, and he grew to love it so much he has continued working gardens throughout his life, watching things grow and enjoying the harvest.
Huskins also has been a lifelong gardener. He said he started as a youngster working beside his dad and granddad. He admits there were times when he thought he knew a better way to do things than they did. As he became an adult, he experimented with doing things his way, and "sometimes it worked and sometimes it didn't."
Huskins said that is really one of the best parts of gardening -- trying things and seeing if they work. "A lot of gardening is trial and error, and you learn from your experiences," he said.
In addition to growing food, this year the group plans to work with novice growers to show them how to preserve foods.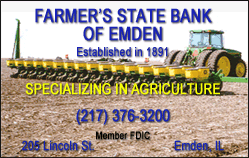 Reifsteck is one who will get involved with that. She has volunteered to be a helper in the garden for those who want some guidance on how to do things, and she also plans to be very involved in teaching gardeners how to can foods and do other things such as make jams and jellies.
The community garden project is open to anyone who would like to take on a plot and grow their own food. The plot rent is very reasonable and all kinds of help is available for the novice.
To learn more about this project, call Kathy Vinyard at Lincoln City Hall, 732-6318, or email kvinyard@cityoflincoln-il.gov.
[By NILA SMITH]