The community is invited for a night of worship. A love offering will be collected to help the chorale with their travels. For more information, call Lincoln Christian Church at 217-732-7618.
---

Upcoming blood drive at health fair

To help ensure an adequate blood supply for the region, there will be a blood drive during the Community Health Fair at Lincoln Park District on Saturday, March 31. The Central Illinois Community Blood Center donor bus will be parked next to the ballroom. The hours of the blood drive are 9 a.m. to 1 p.m.

For your convenience, call Alexis to sign up toll-free at 1-866-GIVE-BLD (1-866-448-3253), ext. 158, or sign up online at www.cicbc.org. Walk-ins are also welcome and truly appreciated.

Central Illinois Community Blood Center, a not-for-profit organization, is the provider of life-saving blood for 12 hospitals throughout central Illinois, including Memorial Medical Center and St. John's Hospital in Springfield. CICBC is a division of the Mississippi Valley Regional Blood Center, which collects over 180,000 units of blood annually and serves a total of 80 hospitals in Illinois, Iowa, Missouri and Wisconsin.
---

Lincoln Jaycees host Easter egg hunt
The Lincoln Jaycees will host their annual egg hunt on March 31. The fun begins at 1 p.m. at Latham Park in downtown Lincoln. The free hunt is open to kids up to age 10. There will be four age groups: 1-3, 4-5, 6-7 and 8-10. Parents may help with the youngest age group.
Come join us for a hippity-hoppity fun time with goodies and prizes. Harvey the Easter Bunny will make a visit, so bring your cameras and baskets. The rain date is April 7.
___
The Lincoln Jaycees are a not-for-profit organization serving Lincoln and the surrounding communities. The organization gives young people between the ages of 18 and 40 the tools they need to build the bridges of success for themselves in the areas of business development, management skills, individual training, community service and international connections.
Membership meetings are the third Thursday of each month at 7 p.m. at the Lincoln Jaycees Center, 325 S. Chicago St., and are open to everyone.
---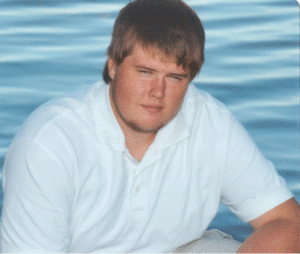 Justin White is Mount Pulaski High School Senior-of-the-Month
Justin White has been named March Senior-of-the-Month at Mount Pulaski High School. Justin is the son of Derek and Anita White of Mount Pulaski.
Justin is a member of National Honor Society and has been involved in student council, Drama Club, Worldwide Youth in Science and Engineering, and Science Olympiad. He has also been a member of the basketball and soccer teams. He has been named to the National Society of High School Scholars.
Outside of school Justin enjoys bowling and has earned his Eagle Scout rank. He has also has had the privilege of attending the Global Young Leaders Conference in China and the National Youth Leadership Forum on Law and Crime Scene Investigation.
He plans to attend the University of Illinois.
The Senior-of-the-Month program is co-sponsored by Johnson's Food Center and Mount Pulaski Pharmacy. Monthly winners receive $100 savings bonds and are eligible to compete for the $1,000 Senior-of-the-Year award.
---

Free preschool screening for Lincoln District 27
Lincoln Elementary School District 27 announces its free screening for preschool:
Who: All children 3-4 years old residing in District 27
What: Free early childhood, preschool screening
When:
Tuesday, March 27,
from 11 a.m. to 6:30 p.m.

Wednesday, March 28,
from 8 a.m. to 3 p.m.
Where: District 27 administration office, 304 Eighth St.
Why: 3- to 4-year-old children will be assessed in:
Knowledge of general concepts.

Speech and language skills.

Motor skills.

Vision and hearing screening.
Please call 217-732-2522 for an appointment.
---

Lincoln District 27 registration for 2012-13
Lincoln Elementary School District 27 is now registering students for the 2012-13 school year.
If you have any children in kindergarten through eighth grade who are entering the district for the first time, visit www.lincoln27.com for further information, or call the administration office at 732-2522 for a registration packet.
The first day of school for students will be Aug. 17.
---

West Lincoln-Broadwell honor roll
West Lincoln-Broadwell's honor roll for the third nine weeks is as follows:
Fifth grade:
High honors -- Emma Konczyk, Hunter McKinney, Morgan Mollohan
Honors -- Paige Langley, Kayla Maly, Zeke Kleinman
Sixth grade:
High honors -- Tabitha Cooley, Jack Eimer, Kaelyn Froebe, Bryan Hay, Autumn Hoffert, Carter McCraith, Amber Oliver, Emerie Wieber
Honors -- Kylee Alexander, Abbie Crowell, Haley Hicks, Blake Jones, Jacob McCray, Smruti Patel, Will Tiffany, Ali Wilson
Seventh grade:
High honors -- Megan Joseph, Grace Konczyk, Jacob Konczyk, Brianna Lanning, Isabelle Stiefvater
Honors: Morgan Bogdanic, Preston Ebelherr, Zac Montcalm
Eighth grade:
High honors -- Kate Benner, Kaylyn Hoffert, Adrienne Klockenga
Honors -- Jeris Bender, David Biggs, Brycen Hicks, Emily Martinez, Garrett Schreiner, Brook Soebbing, Chase Turner
---

Oasis offers free tax assistance program
The Oasis Senior Center offers free tax assistance to seniors during the 2012 filing season, through April 13. The center will offer electronic filing, which improves accuracy and ensures each return is accepted by the IRS in a timely manner. Tax volunteers are trained in the "Tax Wise" software but are not trained tax professionals. If your form is complicated or outside the established guidelines, please seek the assistance of a tax professional.
The senior center is obligated to stay within the guidelines for a Volunteer Income Tax Assistance Center. The guidelines prohibit the center from completing tax forms that involve the sale of property, business earnings, depreciation, stock sales, farm income, and other income or deductions that are not typical in nature.
For an appointment, call 732-6132.
Hours are:
---
---

Park district offers 'Eat What You Learn' cooking class
The Lincoln Park District is offering a four-week course that is an introduction to basic food preparation. Adults young and old, couples or singles wanting to improve their skills are encouraged to come and join in a fun learning experience.
The instructors will be two veteran cooks: Deb Rohrer, the Lincoln Daily News food editor, and Roy Logan, activities director at the park district. With these two in the kitchen, the classes are sure to be fun and informative.
To learn more about this, go to the "Park district notes" in the LDN Community section:
http://www.lincolndailynews.com/
Features/comm022212_park.shtml.
For class information on the park district website, go to
http://www.lincolnparkdistrict.com/News.aspx.
---
---

Community Action board meeting notice

The next regularly scheduled corporate board meeting of the Community Action Partnership is scheduled for March 29 at 7 p.m. The meeting will be at Community Action's corporate offices, 1800 Fifth St. in Lincoln.

For transportation to the meeting, please contact the resource specialist at your county office:
DeWitt County -- Anita Russell, 217-935-2455

Logan County -- Cyndi Campbell, 217-732-2159

Mason and Fulton County -- Anna Richardson, 309-543-6988

Menard County -- Michelle Pickford, 217-632-3137

Piatt County -- Wendy Dotson, 217-762-2421
---
---

Appreciation open house for Dr. Steven Kottemann
Friends of Dr. Steven Kottemann are hosting an open house in his honor on March 31 from 1 to 4 p.m. at Lincoln Christian Church.
Dr. Kottemann has served the Lincoln community over the years, offering not only his medical expertise but his friendship. It is hoped that all those who have had the pleasure of knowing him will stop by and wish him well as he enters retirement.
---

Healthcare Careers Scholarship applications due March 30

March 30 is the deadline for the 2012 Abraham Lincoln Healthcare Foundation Healthcare Careers Scholarship.

Scholarships may be awarded to students pursuing careers identified by Abraham Lincoln Memorial Hospital as relating to its present and future needs. Award amounts range from $10,000 for an associate degree up to $30,000 for graduate degrees. For every $2,500 awarded, the recipient is contractually obligated to a one-year employment contract at ALMH.

Graduating high school seniors, as well as students further along in their health career studies, are eligible to apply. Preferred career fields this year are nursing (ADN or BSN), physical therapy, medical laboratory technology and nurse anesthesiology (CRNA).

Applicants must be residents of Logan County, currently attending or accepted into a fully accredited school for their chosen field of study, and demonstrate a cumulative grade-point average of at least 2.5 on a 4.0 scale while maintaining a B average in core classes.

Detailed scholarship guidelines and application forms are available for download at https://www.almh.org/Giving-Back/
Scholarships.aspx.

Applicants are also required to simultaneously submit an ALMH job application specifically for the foundation scholarship. This application is available at:
https://www.choosememorial.org/
careers/affiliates/ALMH-Job-Listings.aspx.

Both completed applications are due on March 30.

For more information about the ALHF Healthcare Careers Scholarship Program, contact Marty Ahrends, ALHF executive director, at 605-5006.
---

Crime Stoppers accepting scholarship applications

The Lincoln-Logan Crime Stoppers board is currently accepting applications for the organization's 2012 scholarship awards.

The scholarships are available to Logan County residents who are either high school seniors or current college students pursuing a degree in the law enforcement field.

Applications are available at Logan County high schools, Logan County Regional Office of Education, Lincoln College and Heartland College, or call 217-732-5704 to obtain an application.

The submission deadline for scholarship applications will be March 31.

Completed applications should be submitted to:

Karen Petty
Lincoln-Logan Crime Stoppers
311 10th St.
Lincoln, IL 62656
---

Area chapter of engineering society offers $1,000 scholarship
The Central Illinois Chapter of the Illinois Society of Professional Engineers is sponsoring a $1,000 scholarship to a qualified central Illinois high school senior.
To be eligible, a candidate should be accepted into an engineering college or to a junior college with an equivalent academic schedule for the first two years. The candidate must reside within the counties of Macon, Moultrie, Piatt, Shelby or the southern parts of DeWitt and Logan. The southern parts of DeWitt and Logan counties are defined as including the cities of Clinton and Lincoln and those parts south of Route 10, east of Interstate 55 and south of County Highway 569 west of I-55.
There is no formal application form. Interested high school seniors should submit a brief resume including interests, organized activities, officer positions and awards; school transcript with national testing results; and a one-page composition describing their interest in engineering. Arrangements will be made for a personal interview with each applicant during the latter part of April.
Interested students should submit their applications prior to April 8 to:
Willard T. Sudduth, P.E.
2360 S. Taylor Road
Decatur, IL 62521
---

Mount Pulaski Rotary Club scholarship announcement
The Mount Pulaski Rotary Club is offering Mount Pulaski High School seniors the opportunity to apply for scholarships through a Rotary Club program again this year. Applications for the scholarships may be obtained from the high school guidance counselor's office.
---

Mind-reading fun for the public with the Lincoln Masons

The Lincoln Masons are looking forward to an excited room full of happy thoughts at Masonic Lodge 210 the afternoon of April 14, when they host a 1 p.m. lunch event for the public, featuring psychic entertainer Stefan Alexxis with a family-friendly "Comedy & Cool Stuff Mindreading Show."

According to a media release, "under Alexxis' guidance, the audience becomes the star of the show, as average people discoverer they can apparently make amazing, and often hilarious, intuitive connections with him and with each other."

The performance description continues:

"Starting with lighthearted, yet amazing experiments in communications between two minds, the impossibilities grow as Alexxis and his audience see if they can push past the limits of time itself and even mentally influence the physical world.

"Is this ESP? Is it psychology? All Alexxis will say is what his previous audiences already know: It's a whole lot of pure fun, with plenty of laughs along the way."

The performance benefits Masonic Lodge 210.

Stefan Alexxis' varied background seems tailor-made to create a psychic entertainer, or mentalist: high school science fair experiments in ESP-related topics; a degree in religious studies, specializing in world religions and ethics; years as a top-rated radio personality in Idaho and Georgia; work as an award-winning writer for organizations ranging from regional nonprofits to Fortune 500 companies -- all these come together in mentalism.

Alexxis makes no claim to be any more "psychic" than the next person, nor is he trying to prove anything paranormal, the media release says.

"I believe in the ability of the human mind to communicate in subtle and wonderful ways," Alexxis says. "My job as an entertainer is to make sure my audiences have fun with these natural, intuitive abilities. And maybe some people will walk away with more than the memory of (a) laughter-filled night. Maybe they'll have more confidence in what they can accomplish when they put their minds to it."

Online: http://alexxis.info/
---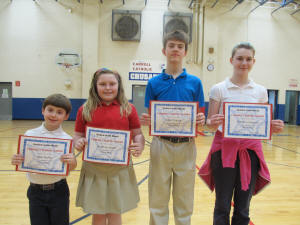 Carroll Students of the Month for March
Each month, teachers at Carroll Catholic School select two students from first to fourth grade and two students from fifth to eighth grade to receive Student of the Month awards. Students are chosen based upon Christian attitude, cooperativeness, courteousness, self-discipline and effort.
March Students of the month are Sean Raffa, second grade; Krystina Slack, fourth grade; Sean Peyres, fifth grade; and Hannah Cameron, eighth grade.
---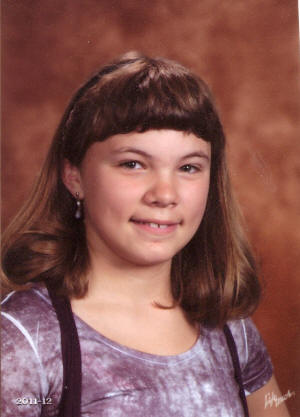 Heather Heidbreder -- Zion Student of the Month
Heather Heidbreder, seventh-grader at Zion Lutheran School in Lincoln, has been selected as the Zion Lutheran School February Student of the Month.
Heather has been an honor roll student, and her ZLS activities include volleyball, track and field, band, and choir.
She is a member of Zion Lutheran Church in Lincoln.
Her church and community activities include youth group, chimes choir, talent show, Sunday school, piano, organ and the Lincoln Public Library reading program.
Heather most enjoys reading books, clogging and watching movies.
Heather's parents are Mark and Jennifer Heidbreder of Lincoln.
---