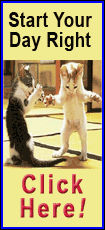 Wade already had sought a third term in office even though he himself had revised the constitution to impose a two-term maximum, and some feared he would not step aside if opposition candidate Macky Sall won Sunday's vote.
However, state television reported only several hours after the polls closed that Wade had congratulated Sall, his one-time protege.
"The results coming in indicated that Mr. Macky Sall had won. As I had always promised, I called him Sunday night to congratulate him," Wade said in a statement that was released to reporters early Monday.
Even before Wade conceded, Sall's supporters began celebrating in the streets of the capital, singing and marching through downtown Dakar. Some even danced on the roofs of moving vehicles, and one man did a cartwheel amid the traffic near the Place de l'Independance.
Sociologist Hadiya Tandian said that Wade's concession washes away the wounds of a violent election season, which left at least six people dead and tarnished the country's reputation.
"This is a great victory for Senegal -- it shows the maturity of our democracy," Tandian said. "It shows that the Senegalese believe in their voter IDs, that a voter card can change something, can make a difference. It shows that our long democratic heritage continues to live in us day by day."
Wade's concession further solidifies Senegal's reputation as a mature democracy in a region better known for strongman rule and power grabs. In neighboring Mali, the president of a decade was ousted last week in a coup led by mutinous soldiers not long before he was due to step down anyway.
French President Nicolas Sarkozy praised the peaceful election in Senegal, which won independence from France in 1960.
"It's very good news for Africa, in general, and Senegal, in particular," Sarkozy said on France Info radio. "When you see what's happening in Mali, it's a reason for hope for all of Africa."
At a midnight press conference at a Dakar hotel, Sall offered few details on the conversation he had with Wade earlier in the evening. Instead, he praised the voters and said he would be the president for all Senegalese.
"Tonight, a new era begins for Senegal," Sall told the hundreds of journalists and euphoric supporters who crammed into the venue to hear him speak.
Whereas most African countries began holding elections post-independence in the 1960s, the Senegalese first cast their ballots 164 years ago starting in 1848 when France gave its territory the right to elect a deputy to the French parliament.
Wade himself first took office in 2000 after his predecessor graciously conceded in a historic moment for Senegal. He easily won re-election in 2007, but has seen his popularity suffer amid soaring costs of living and unemployment. When he cast his ballot last month in the first round of balloting, some voters even booed him at the poll shouting: "Old man, get lost."
His image also was tarnished after he began giving an increasing share of power to his son Karim, who was derisively called "the Minister of the Sky and the Earth" after he was handed control of multiple ministries including infrastructure and energy.