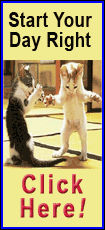 Santorum, buoyed by Saturday's win in Louisiana's primary that boosted his spirit but did little to narrow the delegate gap, urged his supporters to stick with him even as much of the GOP establishment has coalesced around Romney's increasingly inevitable coronation. Even in the face of the political headwinds, the former Pennsylvania senator seemed unwilling to acknowledge it would take a dramatic change in momentum to deny Romney his turn as the GOP nominee.
"Even though a lot of folks are saying this race is over, the people in Louisiana said, `No, it's not.' They still want to see someone who they can trust, someone who's not running an Etch a Sketch campaign, but one who has their principals written on their heart, not on an erasable tablet," Santorum said Sunday on CBS' "Face the Nation". "And I think that's what helped us deliver the win in Louisiana, and I think we're going to do very well up here in Wisconsin, too."
But it's going to be a tough fight, for sure.
Romney remains far ahead with 568 delegates to Santorum's 273, according to an Associated Press tally. Newt Gingrich follows with 135 and Ron Paul has 50.
Short the 1,144 delegates it will take to clinch the nomination ahead of the convention this summer in Tampa, Fla., Romney enjoys an organizational and fundraising advantage over his closest rival. For instance, Santorum isn't even on the ballot for the primary in the District of Columbia, for its April 3 primary -- the latest illustration of how the under-funded underdog struggles to keep pace with Romney's years-in-the-making campaign.
Earlier Saturday, Santorum said he wanted to debate Romney without trailing competitors former House Speaker Newt Gingrich and Rep. Ron Paul of Texas on stage.
"This race has clearly gotten down to two candidates that can win the nomination," Santorum told reporters in Milwaukee. "I'd love to have a one-on-one debate."
Romney's team, increasingly confident, dismissed the idea and the win.
"Rick Santorum is like a football team celebrating a field goal when they are losing by seven touchdowns with less than a minute left in the game," said Romney spokesman Ryan Williams, who crashed Santorum's victory party here.
On Sunday, Santorum shot back, saying the comments came from "a desperate campaign that has no message."