Lady Lynx split with John Wood

Send a link to a friend
[March 26, 2012] The Lady Lynx got off to a rocky start Sunday afternoon against John Wood Community College. Jana Wright gave up a two-run homer in the top of the first inning, and the Lady Lynx trailed the rest of the game.
In the bottom of the seventh inning with two outs, John Wood made a fielding error to put Casey Barretts on first base. Jessica Dorgan came up to bat with a big two-run homer to take the Lynx into extra innings. Going into the bottom of the eighth inning, the score was tied 2-2, Jana Wright got on base with a single, and Katie Kramer advanced Jana with a single. Lohgan Bryant advanced the runners with a fielder's choice and Christi Dixon hit the winning run in with a single to right-center field.

Jana Wright started the game, going six innings, and Jordyn Steiner (3-0) came into the game and earned the win.

Hitting leaders:

Lynx coach Crystal Wurth commented:

"We were slow to start the first game. We had consistent defense but struggled at the plate. When we did get on base, we made base-running errors that made us fail to score early in the game. We got lucky with a few key hits that put us on top to come out with a win."

___

In the second game the Lynx could not get an offense going, the pitchers struggled and defense shut down. The final score after five innings was 11-0 in favor of John Wood.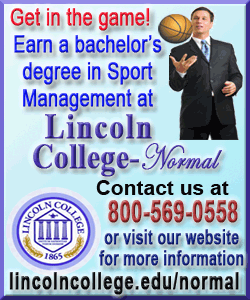 Jordyn Steiner (3-1) took the loss for the Lynx. Rachel Price finished out the game for Lincoln on the mound, throwing 2 1/2 innings.
Hitting leaders:
Casey Barretts: 2-2

Rachel England, Katie Kramer, Jessica Dorgan, Gretchen Stenger: 1 hit each
The Lynx now have an overall record of 7-5 and 1-1 in the conference. Their next game is on Thursday at home against Parkland.
___
[Text from file received from Lincoln College]