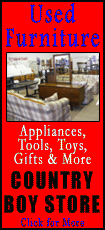 In order to effectively determine how warm the ground is, soil temperatures are taken at depths of 4 inches and 8 inches. The Illinois State Water Survey's Water and Atmospheric Resources Monitoring program, or WARM, releases the resulting data hourly every day on the WARM website.
According to WARM data taken from November 2011 through January 2012:
The median 4-inch soil temperature for the state of Illinois was 38.0 degrees. This is 4.7 degrees higher than in the same period last year.

The median 4-inch soil temperature in central Illinois it was 36.7 degrees, also higher than last winter.
By March 4, the soil temperature in Logan County approached nearly 40 degrees, with that number expected to only continue to climb. As a result, the anticipation is that farmers in Logan County may decide to plant their crops a little early this year.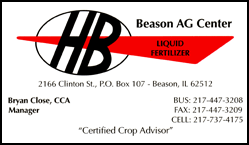 "It depends on the temperature and how much rain we get," said Mark Luken, a farmer and employee at Lincoln Ag Center.
Typically, the planting of crops occurs in Logan County in April, between the 10th and the 13th of the month. Corn, for example, requires a temperature of 50 degrees to grow properly, and the average April weather is optimal for such planting.
"But under warmer conditions, there may be farmers planting corn in the first week of April," says Luken.
Planting early may allow for a greater potential yield of crops, but taking advantage of the warmer soil comes with its own risks as well.
If Logan County is hit with a large amount of rain early in the spring, the presence of standing water may present problems. If the soil is overly saturated, germinated seeds may not get enough oxygen to continue growing. Furthermore, if the water is the result of melting snow from a sudden cold snap, the seeds may die due to chilling injury.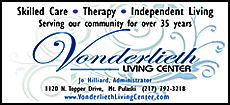 If enough water is present, it may even affect the fertilizers and pesticides that are applied to crops when they are planted. Too much rain could wash leached fertilizer. Fertilizer being washed away is not as potentially devastating as the removal of pesticides, however.
The warm winter is expected to bring an early return of insects and other pests.
"Warmer temperatures could possibly result in greater insect pressure on the crops," says Luken.
The number of pests that could be seen this spring will already be higher than normal, as the cold temperatures that drive pests underground or away from the area have not been as prevalent.
The same as with fertilizer, if the pesticides and herbicides are washed away, the crops will be in greater danger of damage.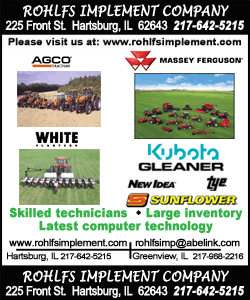 Weeds will also present a potential problem, as the mild temperatures have allowed for winter annuals to emerge from dormancy. The weeds have a head start on growing, and removing them could delay the planting of crops. The application of an early burndown while weeds are small enough to be controlled by herbicides is important.
The mild temperatures have also allowed for mold and fungi to survive on remaining crop residue. Farmers will have to take time to ensure that leftover plant material is properly tilled and rotated; otherwise, diseases like frogeye leaf spot and brown spot (on soybeans), or gray leaf spot and northern corn leaf blight (on corn) could spread to new crops.
Taking advantage of the weather and planting early could be an advantage, but such a practice is not entirely without risks. Depending on the temperature and rain accumulations as spring arrives this year, the farmers of Logan County might have a challenge on their hands.
[Derek Hurley]
Resources:
The Illinois State Water Survey's Water and Atmospheric Resources Monitoring program, known as WARM, collects hourly and daily weather and soil information at 19 stations across the state.
Daily and monthly summaries can be found on the WARM website, http://www.isws.illinois.edu/warm/ and in the Illinois Water and Climate Summary, http://www.isws.illinois.edu/warm/climate.asp Hourly data can be obtained by contacting Jennie Atkins, jatkins@illinois.edu
This is one of the articles you will find in our special Spring 2012 Farm Outlook Magazine.

The magazine is online now. Click here to view all the articles, which include:

Introduction by John Fulton
Weather: The biggest variable
2011 crop yields
Productivity: Corn-on-corn
Alternative income
Protecting your income with insurance
The value of land conservation
Property taxes on farmland
Land value in Logan County
Increasing yield with aerial application
The importance of Ag Scholarships