Baker has often given educational talks about wind towers like those on Fairview Acres, the farming corporation she runs with her husband, Ron, and her brother and sister-in-law, Chuck and Carol Ruben.

The partners raise 11,000 hogs a year and grow corn and soybeans on the 2,000-acre farm. Also rising from the fields are four wind turbines, each located within a half-mile of the Baker home.
"I'm 100 percent in favor of them," Baker said. "I'm highly, highly in favor of the company we used."
Rail Splitter Wind Farm, which takes in parts of Tazewell and Logan counties, sits on a glacial moraine known as Union Ridge. According to the company's Web page, the 67 GE SLE 1.5-megawatt turbines the wind farm has installed have a combined capacity of 100.5 megawatts -- enough to power approximately 28,000 average Illinois homes with clean energy each year. The wind farm achieved commercial operation in September 2009.
Baker's enthusiasm over the use of wind turbines is fueled by America's need to produce more electricity. She says the power produced in Logan County probably goes to the East Coast -- it is not used locally.

"Are we getting any benefits? Probably not," she said. "But if it alleviates the situation there, it helps us."
Rail Splitter Wind Farm is owned by Horizon Wind Energy LLC. According to Horizon's website, the company and its subsidiaries develop, construct, own and operate wind farms throughout North America.
Based in Houston, Texas, Horizon has 27 wind farms and over 15 offices across the United States. The company has more than 1,900 turbines in operation and approximately 40 million hours of wind turbine operational history.
Baker said quite a bit of acreage was tied up with construction equipment while the towers at Fairview Acres were being built. "There was definitely compaction, but they were more than generous in paying for compaction," she said. "At that time, prices were high, so they were more than generous."

Baker said there are 4 or 5 acres of ground that won't ever produce yields at optimum levels again, "but it's nothing we can't deal with."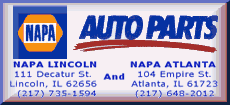 She said field tiles were also broken during construction, but a call to the company about
the damage always produced a quick repair.
"We didn't have any problems," she said.
"Each windmill and road took about 1.2 acres out of production. The windmill company (which signs a long-term lease for the ground) does pay property tax on that acreage."
Baker said one benefit to farmers is the roads in the fields leading to the turbines. "During harvest, you can put your tractor and wagons on those roads," she said. "It gets the equipment off of the main roads, and it has come into quite valuable play in a wet fall."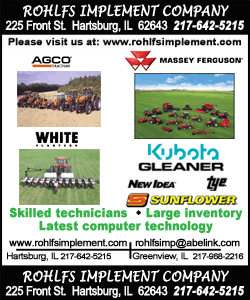 Baker said the shadow of the turbine blades has caused a slight problem when the sun comes up in the east. Besides the shadows cast on the house, the blades throw dark flickers into the hog houses.
"You can be out there and just catch a glimpse of movement out of the corner of your eye," she said. "But then you realize what it is. My answer is to pull the blind down. You can adjust."

Baker said long-term, if the windmill company goes bankrupt or shuts down, a fund set up by the Logan County Board will pay for the removal and cleanup of the towers. "There will always be concrete in the ground," she said. "No one could ever build a house there with a basement -- but again, that's always something you can adjust to."
Logan County receives great benefits from the presence of wind farms, according to Baker.

"There is a huge amount of money coming in," she said. "When we live in a very windy county, we're bound to get more wind farms."

Baker said the wind farms are a way for the county to benefit with little or no work. "(The windmill company is) going to fix the roads better than they were," she said. "There will be seven miles of nice road."

Baker said farmers with turbines on their property also benefit financially, but not that much.
"It is more than those 2 acres would make -- between $5,000 and $10,000 a tower," she
said. "That's not a lot if you only have one tower.
"You could take a nice vacation, but not go out and buy a Cadillac."
Baker says her main motivation in championing wind energy is a desire to "help the world" with a power source that does not deplete other natural resources, such as the life-giving aquifer that runs beneath Logan County.
[Nancy Saul]

This is one of the articles you will find in our special Spring 2012 Farm Outlook Magazine.

The magazine is online now. Click here to view all the articles, which include:

Introduction by John Fulton
Weather: The biggest variable
2011 crop yields
Productivity: Corn-on-corn
Alternative income
Protecting your income with insurance
The value of land conservation
Property taxes on farmland
Land value in Logan County
Increasing yield with aerial application
The importance of Ag Scholarships