In 2010, prices went high on corn and soybeans, but at the same time, yields were down. The state average yield on corn was only 157 bushels per acre. Logan County came close to matching that figure with a disappointing average of 155.7 bushels per acre.

In 2011, Logan County saw a turnaround in yields, averaging 173.4 on corn when the state average was 157, but prices were dropping.

When commodity prices rise, so do the costs of production. Generally when there is a good price year for corn and soybeans, the following year there will be increases in the materials used to produce the crop. This is another kind of ebb and flow that creates a year of revenue exceeding costs, only to be followed in many cases by a year of costs exceeding revenue.

Bob Jeckel, one of four principals in the Lincoln Logan/May Enterprise Insurance Agency, recently spoke about crop insurance as a safety net for farmers that will help protect their annual income.
Jeckel has been in the insurance business since 1973, and he has a farming background as well. The two combined help him to understand the needs of the grain producer and to be a better representative to them in their insurance needs.

Lincoln Logan/May Enterprise is an independent insurance agency offering a wide variety of programs from a wide choice of companies. Multi-peril coverage is offered through Great American and hail coverage through the Rain and Hail Insurance Service.

In multi-peril crop insurance, there is no variance in coverage; it is all regulated through the federal government as the reinsurer for crop insurance companies. In turn the Department of Agriculture Risk Management Agency regulates what is offered in a policy and also sets the premiums.

Because of this, many times the choice of crop insurance company is driven by preference for the agent.

Jeckel said multi-peril covers 85 percent of the expected yield, while the separate Rain and Hail coverage begins with the first dollar of loss, covers rain, hail and has an optional rider for fire.

Jeckel said the best coverage uses both types of policies.

This year, for the first time in six years, the premiums for crop insurance fell. Jeckel said this was a reflection of falling prices on the market.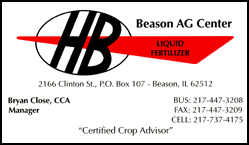 Last year the price base for corn coverage was $6.01, and this year the price will be around $5.70. In addition, there has been a change in rating factors that resulted in a 5-10 percent reduction as well.

All insurance is a gamble, with the buyer betting it will be needed and the seller betting it won't. In crop insurance there is a second gamble as well: market pricing at harvest.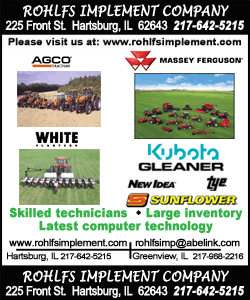 The deadline for signing up for this year's insurance program was set for March 15. If at that time producers have chosen to go with a yield protection plan, they locked in their price per bushel at this year's spring price of around $5.70 per bushel. If during the year a loss occurred that reduced the yield by a minimum of 15 percent, then a claim would be payable at the $5.70 per bushel for bushels lost.

Jeckel said that many times yield protection is a good choice when there is a landlord involved in the operation.

Another option is revenue protection coverage. In this case, the loss exceeding 15 percent of the yield would be covered not only on the yield, but also on the price of the crop. The price of the crop would have a base of the $5.70, and the farmer could be paid no less than that. However, if the market rises, the insurance claim may be adjusted to reflect the higher grain price.

Jeckel said for farms in the lower regions of Logan County, from Elkhart to Mount Pulaski and Latham, the safest bet would be to go with the revenue protection because those areas have a history of losses. Even though this history is not considered in premium prices, it is something to be considered when choosing coverage.

The revenue protection coverage is also of benefit because it covers losses that are not necessarily catastrophic. Poor yields are covered under many circumstances.
Jeckel also noted an interesting point pertaining to claims last year and genetics in corn.

"What we saw last year, when the weather got hot and dry, we thought we'd see corn suffer, but it didn't," he said.

Jeckel said this speaks to the genetic development of corn and its standability in severe conditions.

With this year's crop insurance decisions made, Jeckel said all that is left to do is get the planting done and wait and see what happens. It could be a good year with no losses, or we could see something major happen. Either way, the income capabilities of this year's crops are protected.

[Nila Smith]
This is one of the articles you will find in our special Spring 2012 Farm Outlook Magazine.

The magazine is online now. Click here to view all the articles, which include:

Introduction by John Fulton
Weather: The biggest variable
2011 crop yields
Productivity: Corn-on-corn
Alternative income
Protecting your income with insurance
The value of land conservation
Property taxes on farmland
Land value in Logan County
Increasing yield with aerial application
The importance of Ag Scholarships